Eat, sleep, breathe, order grub, repeat
Not content with the spiralling levels of apathy and agoraphobia Amazon has propagated among a mass of torpid, troglodyte consumers in recent years, the company has released a grocery-purchasing app that lets you add items without having to prod the screen or type – because using opposable thumbs to make a grocery list is, like, so 2013.
Instead,
Amazon Dash
allows you to make a shopping list by shouting the required groceries into a phone like a gluttonous hermit suffering from Tourette's syndrome.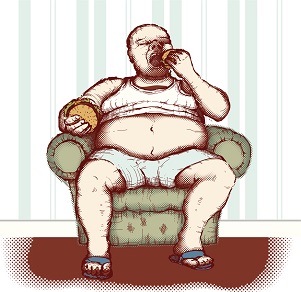 Alternatively, if that level of slothfulness makes you feel physically sick – or you just don't want your neighbours to hear you shouting "oranges" repeatedly at an ever-increasing volume when the app crashes seven times (which said neighbours construe as a weird, potentially fatal, fruit-based sex game) – you can also add items by walking around the kitchen and scanning them with a phone. Haven't you always wanted to simulate the brain-achingly sisyphean job of a supermarket cashier in your own home, only without getting paid? Well, here's your chance.
Just make sure you add a heavy coconut to the list. When you're too overweight to fit through the door, and scanning food has lost its edge, you'll need something solid to crack your skull in half and put an end to your miserable Howard Hughes-like existence.
Happy shopping!