YouTube has claimed it rushed to remove an offensive rap advert before the Advertising Standards Authority's verdict on it even came in.
The promo for Bamby H2O, an artist with fewer Instagram followers than your average boohooMAN foot soldier, has felt the full force of an online censorship committee we assumed had been laid off.
"Ads should be safe and relevant, and we have strict policies against inappropriate, adult and dangerous content that we enforce vigorously," YouTube told the BBC.
It's difficult to take issue with a word of that. When you read about the content of the video in question, which includes explicit language and the use of hard drugs, an image starts to form of a degenerate menace we must protect our children from at all costs. Granted, this stance softened when we checked his channel and realised he's just a kid, with fewer than 3,000 subscribers and the most wholesome cover of Harry Styles' Adore you you'll ever see.
What is it about Bamby H2O, then, that rouses the dormant Mary Whitehouse in YouTube while fitness shyster Vince Sant is still haranguing us about our weight, while jungle royal Harry Redknapp is still endorsing gambling, while anti-lockdown creep Brian Rose is still grifting harder than Grammarly?
It's tempting to suggest factors such as money and race could play a part in dragging a young rapper into an ad censorship story ahead of any of those guys, but then we'd get stitched up as the left-wing equivalent to conservative finger-waggers like our Mary. With that in mind, let's just put it down to Bamby not looking enough like a raging gym bunny, a worm-eating king or a cartoon monorail salesman.
Content Continues Below

Download this free guide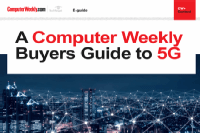 A Computer Weekly Buyers Guide to 5G
Despite the fears of many that rollouts of the next generation infrastructure would be delayed or just not be possible due mainly to the adverse economic conditions caused by Covid-19, the prospects are actually quite bright for the 5G industry in 2021. Download this EGuide to find out what enterprises need to know about 5G.