Aruba: what Heathrow could learn from the San Francisco 49ers
Amazingly, the 2015 technology conference season isn't over yet.
With HP Discover in Barcelona and Le Web in Paris still to come, the battle for public WiFi access will continue for another couple of weeks yet.
Amazingly also, it is easier to get free WiFi on semi-deserted beaches in Madeira or in Sardenia's Olbia airport than it is in London Heathrow, but we live in hope.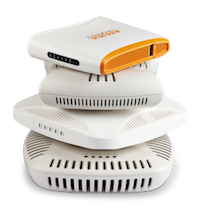 Is the situation improving?
We are seeing technologies come forward such as Aruba's Mobility-Defined Networks technology. This is software designed to automate performance optimisation and security that adds controls with real-time data about users, devices, apps and the location of a network.
Aruba's Meridian is a mobile-app software platform designed to deliver location-relevant information such as indoor mapping, turn-by-turn directions, venue-specific information, and proximity-based notifications to mobile-app users.
The sophistication levels are rising.
The firm's product set features the Aruba Mobile Engagement Solution — this lets venues engage with guests by offering them high-performance WiFi access via a custom-branded web portal, as well as through location-aware mobile apps that deliver onsite search, indoor wayfinding (Ed — Aruba's own term, we think!) and personalised push-notifications based on who they are and where they are.
Which would you prefer?
A custom-branded web portal for WiFi with indoor wayfinding, or a bounce around Heathrow's paltry set of services?
The solution uses Bluetooth Low Energy (BLE) technology to provide passive, granular location-based information to consumers' mobile devices.
NOTE: According to a recent Business Insider report, there is an estimated 570 million Android and Apple smartphones in-use that are compatible with BLE.
Aruba says that consumer adoption of "beacons" is leading to 16.5 times more app usage in-store and a 6.4 times increase in app user retention.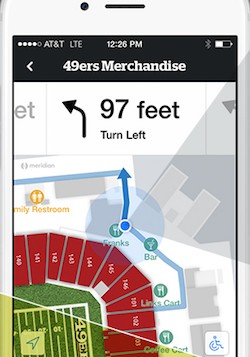 Mini Case Study
The new home of the San Francisco 49ers and one of the world's most advanced open-air sports and entertainment venues, Levi's Stadium seats 68,500 spectators inside a 1.85 million square foot facility. Levi's Stadium's state-of-the-art network was built on Aruba mobility technology to deliver exclusive content, venue information and wayfinding services to visiting fans. The beacons have a few advantages. Among them is a three-stage opt-in process that's designed to protect users' privacy and ease concerns about being tracked via WiFi. The firm developed Aruba Mobile Engagement software to help IT managers enable such beacon monitoring through its own Meridian network management console. Aruba also provides a Software Development Kit for building mobile apps that rely on the beacons, such as the app available at Levi's Stadium.
"From a technology perspective, it is imperative that we engineered a network infrastructure that not only delivered ultra-fast connectivity to tens of thousands of fans' mobile devices, but also provided a mobile engagement experience like none other," said Dan Williams, vice president of technology for the San Francisco 49ers.
"By partnering with Brocade for switching and Aruba for mobility, we were able to blaze new ground and create a platform that gave our fans the experience of a personal game day command center in the palm of their hands. Fans can now watch instant replays, receive precise turn-by-turn navigation, and order food directly from their mobile devices. Visitors get to experience the facility and game like never before by greatly enhancing their onsite experience," he added.