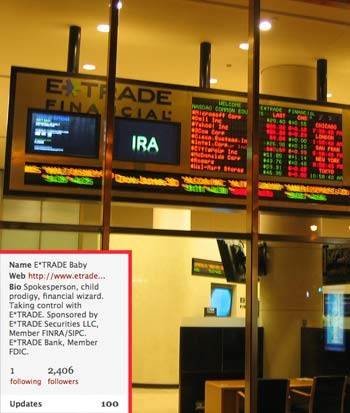 Source:
Goatling, Flickr
10 ETrade has 2406 Twitter followers
The online brokerage, which also offers bank accounts and loans, uses Twitter to mix financial advice with light-hearted chat.

Computer Weekly verdict: E*Trade has created an environment where its followers can relax and become part of a community. There is no hard sell and the company's brand is seen in a good light. 7/10

To follow E*Trade on Twitter click here.
Financial services companies are using Twitter to listen to and support customers as they take their first tentative steps in using social media to support their business.
In this top 10 count down, we list the financial services companies with the most followers on Twitter. These ten all use Twitter to provide customer services.
The research was carried out by consultancy Visible-Banking, which specialises in social media in banking and monitors more than 500 financial services firms with Twitter accounts.
Christophe Langlois, founder of Visible-Banking, said any presence on social media platforms such as Twitter is better than nothing, but financial services firms have a lot of work to do.
"It does not have to cost a lot to get set up and banks should start by just listening to online conversations." He said they can then engage through websites such as Twitter.
There are notable UK absentees from the top 10. The intense pressure on UK banks and their IT departments in the aftermath of the banking crisis could lead to missed opportunities in social media.
Banks in the UK are currently grappling with consolidation and integration and setting up social networks to connect with customers.
Twitter last week launched a guide to using Twitter for businesses.