Helder Almeida - Fotolia
CIO interview: Kim Lindgren, Tieto
Tieto's CIO is taking the Finnish IT services company through a "cloudification" transformation, starting with Google Apps and with cognitive computing on his horizon
Tieto's CIO is taking the Finnish IT services company away from hefty legacy IT and through a "cloudification" transformation, starting with Google Apps and with cognitive computing on his horizon.

Download this free guide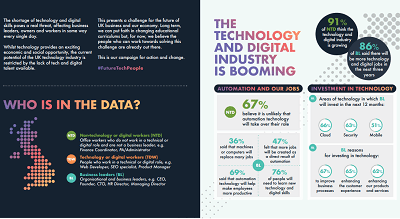 Infographic: Future-proofing UK technology
The shortage of technology and digital skills poses a real threat, affecting business leaders, owners and workers in some way every single day. Whilst technology provides an exciting economic and social opportunity, the current potential of the UK technology industry is restricted by the lack of tech and digital talent available. This presents a challenge for the future of UK business and our economy. Long term, we can put faith in changing educational curriculum but, for now, we believe the people who can work towards solving this challenge are already out there.
By submitting your personal information, you agree that TechTarget and its partners may contact you regarding relevant content, products and special offers.
You also agree that your personal information may be transferred and processed in the United States, and that you have read and agree to the Terms of Use and the Privacy Policy.
Cloud computing and bring your own device policies are high on the company's internal IT transformation agenda.
The vision is to finalise the "cloudification" of the company within the next two years, according to Tieto's CIO Kim Lindgren. "This will leave us with a modular and agile platform and enable us to adapt to whatever changes are coming."
Lindgren said the company is in the midst of the same transformation as its customers.
Another legacy being ripped up at Tieto is its end-user device policy. Tieto is also moving away from homogeneous end-user devices, according to Lindgren. "We understand that one size does not fit all. Our employees can choose what devices and operating systems they want to use in their role and daily work. I truly believe that the standardisation paradigm in this sense is over now. People are so accustomed to cool and trendy services in their private lives that they have the same expectations of enterprise services. At least that is the case in our company."
The iPad trigger
The journey started in 2010, when Tieto's management team got iPads. "They asked us what services we could provide on the iPads, and we realised that with the current setup we could not really provide anything more than standard email. That was what got us started," Lindgren says.
He and his colleagues asked themselves how they would build the company IT infrastructure if Tieto was a startup. "The answer was that we wanted a platform where our employees could easily cooperate with each other both internally and externally. And we wanted them to be able to work from wherever they please – the office, a coffee shop, or at home. And we wanted our services to work with any device – PC, Linux, mobile, tablet and so on."
During 2011 evaluations were made, and Lindgren and his colleagues concluded that the solution had to be browser-based. "We wanted a thin-client solution; we did not want to distribute applications to multiple client devices, and we could clearly see that Google's platform is built for this new way of working. The simplicity of Google Apps was on a different level than the competing ones, so in the end of 2011 we decided that Tieto was going with Google."
Read more Nordic CIO interviews
The cloud transformation kicked off in 2012, and Tieto is currently rolling out Google Apps to all employees, according to Lindgren. "But some people cannot use Google calendar or email because of legislation covering some of our customers – for example, public sector customers. The current regulations are pretty hard when it comes to the cloud, so some of our employees will have to continue using Microsoft Exchange."
Lindgren said he generally finds decision-making pretty much a breeze, and certainly would not call the Google Apps decision a hard one. "But with regards to cultural change, it is one of the biggest decisions I have made as a CIO. We began questioning the old way we had been doing things, and to change the way of working in Tieto. We could have leaned back and kept doing what we had been doing for the last 20 years – that is, wait for our vendors to deliver new releases."
The alternative route of a gradual move to full cloud would have left Tieto stuck with legacy systems, according to Lindgren. "And then we would have had a hard time cutting our costs. The strategy we chose will boost collaboration, support innovation and also save us money, even though this kind of transformation tends to imply double costs for a while."
Tieto still has lots of legacy licensing to deal with, according to Lindgren. "We have taken down lots of legacy-based servers and infrastructure, and our vision is that all our services will be cloud services, whether deriving from our own cloud or someone else's cloud. We will have cloud-based portals where our end users log in, and we will not own our office networks any more – everyone will be on the internet. LANs and WANs are a big cost, and can be downscaled."
All eyes on Tieto
Tieto has 13,000 employees, and since they are pretty much all IT professionals, Lindgren has more eyes on him than most CIOs. "Every time I communicate a planned change, I get into lots of discussions. And I actually enjoy them, because they have helped us improve things. I see them as an opportunity to learn, even though some discussions never end, like the ones I have been having about Google with the team working with Microsoft integration."
It is not only Tieto's employees who are interested in what the 90-strong IT department is doing. Since Tieto is an IT services company, it is also important to show customers that Tieto practises what it preaches, according to Lindgren. "I often join the business units visiting our customers to tell them our story of cloudification."
The IT department also does a lot of product development, and plays the role of pilot customer. "That enables us to improve the services before customer launch."
Other big IT projects Lindgren and his team are working on are improving reporting capabilities and enterprise content management. "We are using Qlik's tools for reporting, bringing an analytic view on top of traditional reports, so that we can visualise data in a context relevant for the business and project managers. And we are moving enterprise content management to an Alfresco-based solution, focusing on structure and improved metadata. On top of that we are using Google's enterprise search to provide our users with relevant access to the content they want."
Cognitive computing
Looking further ahead, Lindgren plans to dig deeper into cognitive computing. "There are many areas we can apply it to. Examples already on the market are service robots starting chats with customers when they enter a website, and IBM's Watson, acting as if it had a master's degree in medicine. It is fascinating how computer learning will change professions in the future."
For Tieto, this will mean that some elements of daily work will be handled automatically, enabling employees to focus on value creation for customers, Lindgren believes. "For example, we will be able to totally automate routine tasks within accounting. I have learned that when it comes to all these new things, you just have to take action. You cannot understand the potential if you only read white papers and try to grasp it on a theoretical level. You have to start using it. Only then you can figure out what you can get out of it for your business."
Read more on CW500 and IT leadership skills