Virtual machine backup and disaster recovery top European storage priorities
Virtual machine backup and disaster recovery top the storage priorities of European IT departments as recession bites and legal and industry compliance requirements must be met.
The two joint highest priorities in storage and backup among European IT departments this year will be virtual machine backup and disaster recovery. With a score of 39% each from 225 European IT professionals in the TechTarget worldwide IT priorities survey conducted in late 2011, these two fields emerged as top of the storage to-do list for 2012.

Download this free guide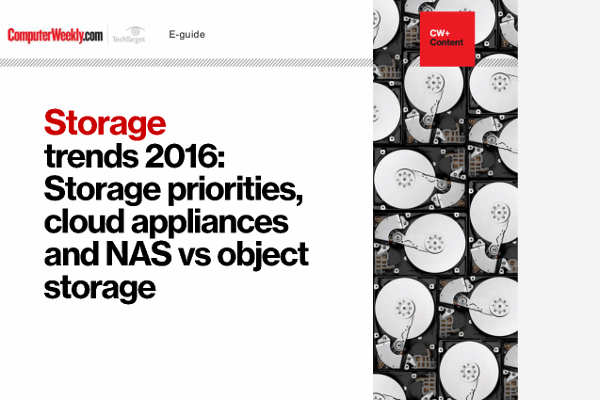 Storage trends 2016: Storage priorities, cloud appliances and NAS vs object storage
Our guide to the latest shifts in the Storage to-do list for IT departments, cloud appliance providers, and what to do with large volumes of unstructured data
By submitting your email address, you agree to receive emails regarding relevant topic offers from TechTarget and its partners. You can withdraw your consent at any time. Contact TechTarget at 275 Grove Street, Newton, MA.
You also agree that your personal information may be transferred and processed in the United States, and that you have read and agree to the Terms of Use and the Privacy Policy.

Third in the list of storage-related IT department priorities is storage virtualisation, which 28% of those questioned say they will deploy in 2012. Fourth-, fifth- and sixth-placed priorities are cloud storage or backup (21%), data deduplication for backup (20%), and data reduction for primary storage (17%).
Cloud computing also emerged as a "broad initiative" for a significant portion of those questioned (27%). Of those, 28% said they would use the cloud for storage and 30% for disaster recovery. By way of perspective, 58% said they would use the cloud for application provision.
The survey also asked peoples' main reservations about working with external cloud services providers. Security was ranked highest as a worry, with reliability and protection of data behind that.
So, what's driving these priorities? There are two key constraints in play: the need to cut costs and the needs of legal and regulatory compliance.
We know those questioned are feeling the recessionary pinch because they told us so. A majority of respondents said they were in recession (28%) or are now slowly recovering from it (40%).
We also know that compliance is a driver. Just under a quarter of respondents, 24.5%, said complying with legal and industry regulation -- large chunks of which dictate data protection and disaster recovery standards -- is a priority.
Server virtualisation is also a high priority for those questioned (58%). This too is arguably ultimately an exercise in cost cutting as it aims to vastly reduce numbers of physical servers in the data centre.
But, once embarked upon, server virtualisation brings the need for a number of associated projects that cost money, such as optimising storage and backup for virtual machines.
Some questions must be raised regarding storage virtualisation, which emerged as the third highest storage priority among respondents. Storage virtualisation is where heterogeneous storage capacity is pooled to provide one shared reservoir of capacity. Interest in it has been spurred by server virtualisation, but its actual take-up has not been very widespread.
In fact, SearchStorage.co.UK Purchasing Intentions surveys of the past two years have found storage virtualisation adoption stuck at around the 30% mark. So, it is possible that in the survey respondents were trying to indicate they planned storage for server virtualisation, a project that would fit extremely well with the ongoing widespread deployment of virtual servers.
The survey's findings were often echoed when we spoke to UK storage professionals from a variety of organisations.
For Roger Bearpark, assistant head of ICT at Hillingdon council, traditional disaster recovery is receding in importance as the organisation moves to the cloud, but VM backup is an ongoing priority. He said, "I can't echo the priority given to disaster recovery as we're moving to a cloud services environment with email and Office applications using Google Apps for Business. All of which makes traditional DR a thing of the past. But, yes, virtual machine backup has been a big project for us, and we've done it, but I can understand it's a big deal for many people going through the process right now."
Wayne Morris, project implementation manager with animal welfare charity The Blue Cross, reflected the experience of a much smaller organisation at the start of the journey towards server virtualisation. He said, "Our IT infrastructure is under review right now, and we're looking at server virtualisation. We recognise that we will need shared storage capacity and that backup is a major thing we'll need to tackle as part of that project."
Meanwhile, Aaron Wilson, senior systems administrator at Oxford University Computing Services, talked of how DR is an ongoing concern in a large and complex organisation. He said, "DR is important to us. We have solutions in place, but we constantly review those as developments in the infrastructure occur. We already have equipment in dual locations for many aspects of our services."