Legal compliance software gives Hero MotoCorp a transparency leg-up
Legal compliance software has enabled Hero MotoCorp to keep its legal worries at bay. Witness how the CIO-CFO co-work on this compliance software project.
In this edition of Two-Way Street, we present the exclusive interview of Hero MotoCorp's CFO and the compliance head Ravi Sud and the CIO Vijay Sethi. In a chat with SearchCIO.in, the top executives of India's largest two-wheeler manufacturer discuss why they implemented legal compliance software and the business benefits they derived out of it.

Download this free guide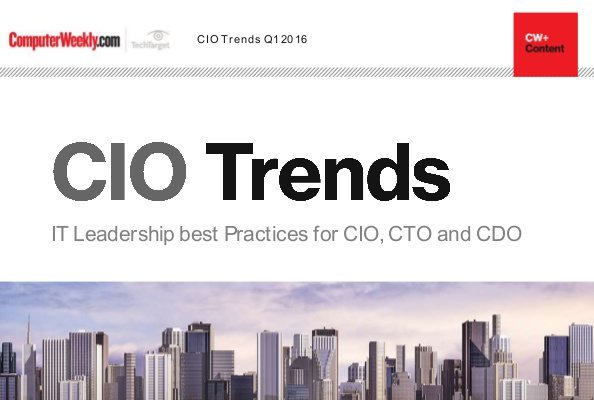 Your exclusive guide to CIO trends
A collection of our most popular articles for IT leaders from the first few months of 2016, including: - Corporate giants recruit digitally-minded outsiders to drive transformation - Analytics platforms to drive strategy in 2016 - Next generation: The changing role of IT leaders.
By submitting your personal information, you agree that TechTarget and its partners may contact you regarding relevant content, products and special offers.
You also agree that your personal information may be transferred and processed in the United States, and that you have read and agree to the Terms of Use and the Privacy Policy.

What made you invest in legal compliance software at Hero MotoCorp?
Sud: Maintaining compliance standards is no longer the responsibility of business heads and executives; the onus also lies with the directors. The regulatory environment in India has become stricter than before; even non-executive directors can be served legal notices and be prosecuted for non-compliance.
Being in the automobile manufacturing, some of the important laws we need to comply with include Motor Vehicles Act, 1988, Central Motor Vehicles Rules, 1989, Factories Act, 1948, Payment of Wages Act, 1936, The Payment of Bonus Act, 1965, and Provident Fund Act, 1968, among others. We needed a tool that could help us manage and keep track of the recurrent changes in laws; and that's where the compliance software came into the picture.
What difficulties did you face during implementation?
Sud: Even before implementing the legal compliance software, substantial ground work went into evaluating each provision of all Acts that are applicable to the automobile sector. Each Act has over 100 provisions; and all needed to be complied with. The ground work helped us gauge the current status of compliance at Hero MotoCorp. User resistance was the main challenge we faced during implementation.
Sethi: We have our manufacturing plants in Haryana (at Gurgaon and Dharuhera) and in Uttarakhand (at Haridwar); we have to comply with the laws in both the states.
The software implementation had to be done hand in hand with a certain level of re-engineering of our internal processes. Earlier, legal compliance was a manual process: all the heads of the plants would submit one-line forms certifying that all compliances had been fulfilled. But the manual process was fraught with discrepancies and lacked transparency. The implementation of the software has automated the whole process of legal compliance. The tool gives pop up notifications to the employee(s) for all the necessary compliances, their due dates, and the requisite documents to be attached once the compliance processes are complete to make them legally valid. The tool enforces documentation as proof of compliance as part of the process.
Sud: The software not only automates the process but also brings visibility and transparency to our legal compliance efforts. This ensures that the Board gets the exact and reliable updates on compliances regarding any business operation and unit. It gives a comfort to the directors; they get a good night's sleep!
Sethi: The compliance software has brought about a certain degree of accountability amongst the employees of Hero MotoCorp. All the info related to legal compliance is made available on the software's dashboard for easy access by the audit committee or the Board. If anything is amiss, it can be quickly tracked down. The compliance status can be reviewed frequently to ensure there is no legal issue to be worried about.
What were the project's evaluation criteria and completion timeline?
Sethi: The software has been developed by a local company. There was no branded product available for legal compliance management that met our requirements. It took us 18 months to implement the project. The trial run that lasted for about five months got over in OND quarter of 2011. Following the trial run, we have given access to dashboards oniPads.
How did both of you work together when the project was being implemented?
Sud: The legal compliance management project was a combined effort. My team, as well as Vijay Sethi's team, was involved right from the time when it was in the pipeline. We interacted frequently. We listened to each other's viewpoints and recommendations and weighed our options.
Sethi: We interact regularly, everyday almost, even today, post the implementation. Even though we have an annual business plan, we interact and review it regularly. So although our IT plan is chalked out in the beginning of the year, new demands and projects can be accommodated if need be.
Considering the project's scale, did both of you have any major conflicts?
Sud: Dissent is necessary during decision making. This helps in making better decisions. We were committed to this project and once we decided on how to go about the implementation, it was like half the battle won.
Sethi: The only teething problem was changing the working habits of the people in the organization. Each legal clause was revisited and thoroughly debated upon. Once all this was laid down, there was undivided commitment and agreement.
What tangible business benefits will the project deliver?
Sud: For every proposal that comes from the IT side, I conduct background checks to see if it makes business sense; whether it will improve our processes, or will add to our bottom line, or increase our efficiencies, or give us some return, or improve the quality or the perception of our company in the market.
Sethi: These checks did take place even in this case; in fact, the need for this project came from the legal compliance team. You must understand that a compliance software project may not directly impact Hero MotoCorp's top line or bottom line. But it will help us to bring in transparency within the organization. It will help us in establishing accountability among the employees. The legal compliance software project is perhaps one of the bravest steps we have taken in the direction of transparency and accountability and to improve our workflows.
What will be the next step?
Sethi: We recently made the legal compliance dashboard available on iPad. This helps the Board and the Audit committee members to view the compliances across the organization at a glance.
Leading from the front:
Ravi Sud: Ravi Sud is the senior vice president, CFO and head of compliance at Hero MotoCorp and is responsible for overall finance functions at the company. Additionally, he serves as the financial advisor at Hero FinCorp.
Ravi has more than 35 years of experience in the finance environment and primarily in the automotive industry. Prior to his current role, he served as general manager in corporate finance of Eicher Goodearth.
He has a B.Com. (Hons) degree and PGDM from IIM Ahmedabad. He holds FCS, AICWA and is also an associate of ICWAI.
--
Vijay Sethi: Vijay Sethi is the vice president and CIO at Hero MotoCorp. He is responsible for Information Systems function at Hero MotoCorp. Vijay Sethi has more than 22 years of experience in the industry and consulting environment. Prior to his current role at Hero MotoCorp, he worked at Ranbaxy and Tata Consultancy Services in various IT leadership roles across global IT management and planning, and in the development, deployment, and maintenance of enterprise-wide applications and infrastructure projects.
Vijay Sethi has a Masters Degree in Industrial Engineering, MBA in Materials Management and a Bachelors Degree in Mechanical Engineering.
Read more on CW500 and IT leadership skills