News
Stay informed about the latest enterprise technology news and product updates.
A Series of Tubes Episode 41
In this week's networking podcast, we learn why networks need to get smarter.
This week we're looking into the three things which are most likely to keep data and network centre managers awake at night - the headline above gives you a clue - and we'll also try and discover how we might realise the promise of information everywhere, which is going to require smarter networks at the very least.

Download this free guide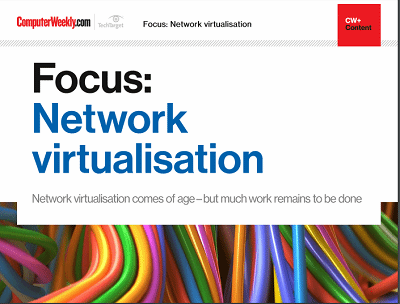 The long promise of Network Virtualisation
While the end goals of virtualising an enterprise network are extremely attractive ones, as of mid-2017 it is clear that much work still needs to be done by the technology industry to make the case for why it makes sense for enterprise IT departments to do to their networks what they did to other aspects of their IT years ago. In this e-guide find out how virtualised networks can help enterprise organisations save money on their wide area networking (WAN) infrastructure and take some tips on strategy from experts.
By submitting your personal information, you agree that TechTarget and its partners may contact you regarding relevant content, products and special offers.
You also agree that your personal information may be transferred and processed in the United States, and that you have read and agree to the Terms of Use and the Privacy Policy.
In this week's podcast:
ZDNet Australia's Liam Tung disucsses the week's news headlines with host Ian Yates
Peter Spiteri from Emerson Network Power uses his roadmap to take us for a drive through the minefield of problems facing data and network centre managers
Amol Mitra from our sponsor ProCurve Networking by HP talks about the information driven business model and pushing intelligence out to the edge of your networks
Read more on Data centre networking