Microsoft chief executive officer Steve Ballmer unveiled the first widely available public beta of Windows 7, earlier today at the Consumer Electronics Show (CES) in Las Vegas.
In the opening keynote at CES, Ballmer demonstrated Windows 7, and Windows Live, the company's internet service for home users. Ballmer said he was optimistic that the digital age would not be curbed by the economic crisis. He said, "No matter what happens with the economy, or how long this recession lasts, I believe our digital lives will only continue to get richer. There really is no turning back from the connected world and the pace of technological advance bringing people closer together."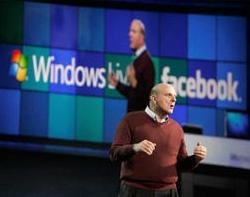 Windows 7, the next major version of the company's desktop operating system will run on existing Vista-ready hardware. Significantly, Microsoft aims to ensure Vista applications run on Windows 7 without modification. In terms of hardware support Microsoft said Vista-ready PCs and notebook PCs should be able to run Windows 7. Additionally, Microsoft said the operating system will also be able to run on currently shipping netbook devices, which currently run either Windows XP or Linux.
Windows 7 includes touch-screen technology called multi-touch, which allows users to move, drag and drop, highlight and resize objects on the graphical user interface by moving their their fingers across the screen.
Bitlocker hard disc encryption, which was introduced in Vista has now been extended to support removable discs like USB memory sticks. Vista or Windows 7 will be required to encrypt the discs, but Windows XP systems will be able to decrypt the data, Microsoft said.
In terms of user interface changes, Microsoft has added a right mouse click context menu to the Windows task bar, that allows users to access some of the common functions in the application direct from the task bar. In addition, when a user hovers the mouse over an application in the task bar, Windows 7, previews that application.
The beta version of Windows 7 can be downloaded from January 9. Windows 7 is due to ship by the end of 2009.
Windows Live
Ballmer also demonstrated how Microsoft was moving forward with its internet strategy, following the failure to acquire Yahoo last year. Ballmer unveiled the final version of Windows Live Essential, the company's free online system which includes Hotmail webmail and MSN Messenger and Windows Live Photo Gallery. Ballmer said, "Windows Live has become an essential companion to Windows and your PC. It is our cloud solution for communicating, sharing, and keeping your life in sync across the PC, the phone, and the Web."
Windows Live Essentials is integrated with popular Web 2.0 communities including Facebook, Twitter, and Flickr. Ballmer's demo showed how Windows Live users could receive updates from their Facebook friends, send and receive Twitter postings and view and upload images into Flickr, direct from Windows Live, without having to login to these services separately.
Email Alerts
Register now to receive ComputerWeekly.com IT-related news, guides and more, delivered to your inbox.
By submitting your personal information, you agree to receive emails regarding relevant products and special offers from TechTarget and its partners. You also agree that your personal information may be transferred and processed in the United States, and that you have read and agree to the
Terms of Use
and the
Privacy Policy
.