Outsource to save costs and remove business constraints
When Threadneedle Investments decided to outsource key operations, it gained cost savings and removed business constraints. Mick James finds out its secrets to a successful outsourcing deal
In September 2005 Threadneedle Investments, the third largest retail investment funds manager in the UK, decided to outsource its investment and custody operations. Twelve months later, its Swindon-based operations unit transferred to JP Morgan in a "lift-out" that, as managing director Crispin Henderson commented at the time, was completely seamless. "Our dealers did not even know it had happened," he said.

Download this free guide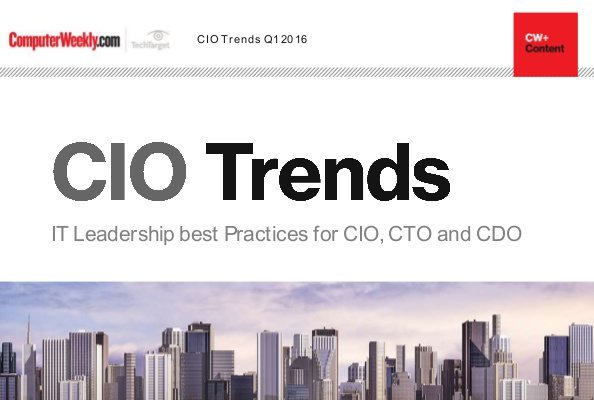 Your exclusive guide to CIO trends
A collection of our most popular articles for IT leaders from the first few months of 2016, including: - Corporate giants recruit digitally-minded outsiders to drive transformation - Analytics platforms to drive strategy in 2016 - Next generation: The changing role of IT leaders.
By submitting your personal information, you agree that TechTarget and its partners may contact you regarding relevant content, products and special offers.
You also agree that your personal information may be transferred and processed in the United States, and that you have read and agree to the Terms of Use and the Privacy Policy.

The driver behind the move was a progressive change in the investment market. As asset-rich baby boomers move into retirement, they are increasingly seeking more complex investment vehicles to mitigate various types of risk. This in turn is leading fund managers to move to derivatives and other complex instruments to satisfy those requirements.

As Syd Wilkinson, Threadneedle's director of change explains, this would have placed increasing pressure on the firm's internal systems. "All of our technology could handle traditional instruments in a very straightforward way, from order all the way through to settlement," he says.

"With derivatives we would have had to start doing things we did not do previously, and the cost of doing so would have been pretty huge. Outsourcing gave us the opportunity to avoid substantial cost if we could share the experience of an outsourcing supplier."

Threadneedle had already successfully outsourced its retail client services operations to the Bank of New York in 2004, and although it had rejected outsourcing its investment operations back then, it was now prepared to revisit the issue.

"Outsourcing investment operations had had a sort of chequered history," says Wilkinson. "There had been a lot of problems, but now the industry had matured and suppliers understood that they had to really understand the business they were trying to support."

Threadneedle had also spent a lot of time and effort making sure its operations were ready to outsource and were attractive to a potential outsourcing supplier. "When we put new IT systems in place they were designed with the flexibility so that at some point in the future we would be able to outsource very cleanly," says Wilkinson.

"We began to architect them five or six years before so that we had proper separation in place and we knew where the boundaries between systems were. We started to create separate business areas and put datawarehouses in place so that it was all clean and much easier to separate."

Wilkinson says the golden rule of outsourcing is to never outsource a problem. "We spent a lot of time investing in the investment operations system to get it right before we outsourced it," he says. "We invested quite a substantial sum in getting our back office to really hum."

This was to become a key factor in the selection of suppliers. "The reason our deals have gone very well is because what we were outsourcing was a very attractive business," says Wilkinson. "That is another good reason for suppliers to give you a premium price."

To help with supplier selection Threadneedle brought in consultancy firm Troika, which had also worked on the Bank of New York deal. Despite the short 12-month timescale for the deal, nearly three months was spent defining the request for proposal.

"There has been some history of deals that have not been successful and quite a long list of deals that have failed," says Troika consultant Charlie Goddard, who project managed the "lift-out".

"We were very thorough in the way we defined the services: we wanted there to be no ambiguity about who was doing what, where or how."

This was partly to mitigate risk, but also in recognition of the transfer of knowledge and experience that would go along with the outsourcing. "All that knowledge and experience that builds up over the years would now be in the heads of the outsourcing supplier's employees," says Goddard. "We wanted to make sure it all got written down."

Out of eight suppliers, JP Morgan Worldwide Securities, a division of JP Morgan Chase Bank was selected. This was partially because they offered a good financial deal, had a strong commitment to the derivatives market and possessed good systems for dealing with derivatives trading and custody. But a major factor was JP Morgan's attitude to Threadneedle's Swindon-based in-house operation.

"They said they were going to stay in Swindon and use that as a strategic location for their business," says Wilkinson. "Other suppliers were going to migrate away from our systems and people, which would have meant large numbers of job losses."

Wilkinson says that there have been no job losses so far among the 160 staff that have transferred, and that JP Morgan is investing in bigger premises in Swindon to allow for future growth.

Threadneedle had been completely open with its staff about the move, even informing them that they were considering outsourcing before the final decision was made.

"The first time you mention outsourcing, people think, are there going to be job cuts, am I going to end up working in Poland or India," says Wilkinson.

"When they start to engage with suppliers they realise they are going from being in the back office of a company with 1,000 people, to the front office of one with 120,000 where there are a lot more opportunities."

Staff were given the option of transferring to JP Morgan or staying at Threadneedle, but most decided to make the move, says Wilkinson. "The biggest problem we had was with the retained staff and how to motivate them as part of a smaller operation," he says.

Wilkinson says that in many ways this "softer" side required more effort than the physical separation of the business. There the company adopted a two-stage approach, to reduce the risk to what are mission-critical systems.

"If we do not price our regulated funds for three consecutive days, the Financial Services Authority will shut us down," says Wilkinson. "We try not to do too many things at a time, but to do things in a staged way, so that we always have a fall back."

The first stage of the outsourcing deal was completed in September 2006, and transferred operational control of the investment operation, together with all related staff and processes, to JP Morgan. However, Threadneedle retained control of the IT systems until such time as JP Morgan was ready to support them.

"Effectively, JP Morgan were outsourcing the IT systems to Threadneedle," says Wilkinson. "As soon as the business systems were bedded in we started to transfer the IT systems."

The final transfer of systems will take place by autumn this year, unlocking the economies of scale that underpin much of the initial financial benefits of the deal.

While unwilling to give precise figures, Wilkinson says that the financial benefits have already been "very tangible", and probably better than suggested by the initial business case. But the firm is also beginning to see a wider flow of benefits, some of which are more intangible.

"It has made it much more transparent to the rest of the business what the cost of those internal services are. Previously, internal allocated costs were seen as arbitrary. It allows us to really look for the first time at product profitability - you can see what is worth doing and what is not. It becomes an easier business to manage."

With costs calculated according to an explicit tariff, outsourcing has also helped with future planning. "In terms of change, if you want to add a new fund or a new capability, you are paying for that change," says Wilkinson. "You are much more conscious of what you are doing it helps you to think in a sensible and commercial way."

He also believes the change has made working relations more professional. "There is a different modus operandi in how people interact. If you want something done you pretty much know when it is going to get done - you are not chasing a colleague."

Once the systems transfer is complete, the next stage is for Threadneedle to start ramping up its derivatives capability using JP Morgan's systems.

"The derivatives will come through in stages, as JP Morgan provides higher levels of capability that will be staged through to next year," says Wilkinson. "Then we will add additional levels of automation and additional levels of reporting back which will feed into our risk systems."

Future developments will include creating a close alignment between JP Morgan and Threadneedle with a shared data platform. This is important because, whereas the value of traditional financial instruments such as equities can be calculated from a common data source such as the closing market price, derivatives are more difficult to value. Valuing complex instruments such as options or interest rate swaps relies on complex algorithms.

"You might have the same data sources, but if you are using different algorithms you are going to come to different answers," says Wilkinson. "What I do not like is the idea of the calculations being different from the front office to the back office. The best way of making them the same is to make sure they are exactly the same algorithms."

The shared data platform will give Threadneedle access to algorithms that come from JP Morgan's investment bank. "It is about leverage," says Wilkinson.

"What we have been able to do is tap into one of the largest and most effective investment banks in the world at a fraction of the price. We have gained capability, scale and the removal of constraints on our business."

Mid-tier outsourcers offer flexibility >>

Astrazeneca opts for new-style outsourcing deal with IBM >>

Outsourcing deals get bigger in Europe >>

Comment on this article: computer.weekly@rbi.co.uk
Read more on IT outsourcing