Demand for skilled staff steps up
Nicholas Enticknap analyses the latest SSL/Computer Weekly salary survey to discover the roles, skills and areas that offer the richest pickings
The IT jobs market was in good shape in the first three months of 2007, with the number of permanent jobs advertised reaching its highest level for five years. But although the sea of jobs looks calm and inviting, there is quite a bit of turbulence hidden beneath the surface.

Download this free guide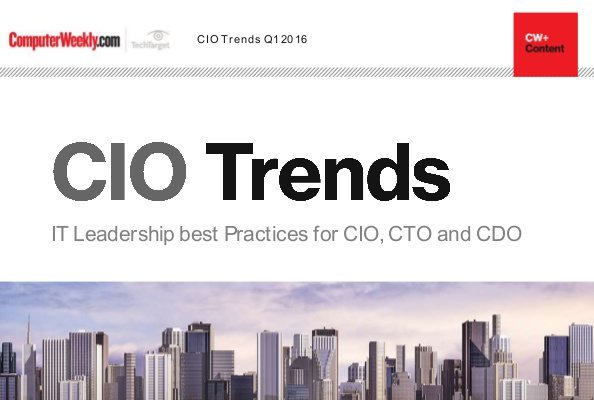 Your exclusive guide to CIO trends
A collection of our most popular articles for IT leaders from the first few months of 2016, including: - Corporate giants recruit digitally-minded outsiders to drive transformation - Analytics platforms to drive strategy in 2016 - Next generation: The changing role of IT leaders.
By submitting your email address, you agree to receive emails regarding relevant topic offers from TechTarget and its partners. You can withdraw your consent at any time. Contact TechTarget at 275 Grove Street, Newton, MA.
You also agree that your personal information may be transferred and processed in the United States, and that you have read and agree to the Terms of Use and the Privacy Policy.

Below the calm waters there are signs of trouble in the low rate of average salary increase, in the continuing decline in demand for software engineering and networking staff, and in the fall in demand for recently popular skills such as Visual Basic, Sybase and even Unix.
For those with proven management experience, business acumen and the skills and expertise to ride out the storms to come, the future looks rosy. For those professionals earning lower salaries and dependent on their expertise in the popular client/server technologies of the 1990s, prospects are nothing like as good.
These are the main conclusions to be drawn from the latest issue of the SSL/Computer Weekly Survey of Appointments Data and Trends.
Employers have been particularly keen this year to take contractors with premium skills onto their permanent payrolls. According to Paul Smith, group marketing director at recruitment consultancy Harvey Nash, "Employers are trying to secure people where skills are really short and take them on permanently. We are seeing contactors being head-hunted away."
This is evident in the SSL figures, with contract jobs for senior staff down 20% from a year ago, while those for junior staff have remained at more or less the same level.
There was also a significant shift away from the contract market in central London. There, contract jobs were down nearly 33% on a year ago, while permanent jobs offered in the capital rose by more than 33%.
The London market is dominated by financial services, and permanent jobs here were also well up, as they were in all the user sectors. This was offset by a small decline in job offers made by the IT industry.
Overall, the number of permanent IT jobs offered on the web was up 4% on a year ago, and stands at its highest level since the first quarter of 2002.
This statistic conceals some big variations in different areas of the market, however. Management posts and PC support posts are up 22% and 26% respectively inner London jobs are up by 37%, and user site recruitment is up by more than 25%. In contrast, posts offered to networking staff, software engineers and programmers all fell by 8%-15%, jobs in the Midlands and the North were both well down, and IT industry jobs were slightly down.
The surge in newspaper IT advertising over the past year has come to an end. Magazine-based jobs were down by more than 33% on the first three months compared to last year, and have returned to the level they were at in 2005.
The temporary rise in recruitment over the past year and a half was caused by the immense NHS contract, which distorted the figures for a while. Public sector jobs in newspapers were down by nearly 50% on a year ago, although this sector increased job offers by 15% in the permanent market over this period.
The contract market was down overall by 6% on a year ago. This decline was mainly caused by the cutting back in recruitment of senior staff. Contract jobs for them fell 20%, but recruitment of junior contract staff fell by just 1%. IT industry recruitment of all types of contractor fell by more than 25%.
The buoyant demand for skilled staff needs to be seen in the context of a global recruitment market. As the practice of taking development projects offshore continues to grow at about 40% a year, so the need for skilled staff to manage these projects back in the UK grows accordingly.
The flip-side is that employer willingness to use offshore agencies is holding UK IT salaries down. Median permanent salaries rose just 1.7% compared to early 2006, which compares with the 4.6% average earnings inflation across all industries reported for February by the Office of National Statistics.
Increases in contractor rates were a little higher at an average 2.6%, static compared to a year ago. Developers did notably well, with their average rate rise over the past year standing at 8%.
Salary rises in the IT market have been lower than the national average for all jobs in every quarter for several years now. According to Smith, "The IT industry no longer commands a premium over other industries, so people are not moving into IT so much. It is not such an attractive option as it used to be."
In the skills league table the most noteworthy feature is the decline of Unix to its lowest ever position of 10th. The most popular of the proprietary versions of Unix, Solaris, is also sliding inexorably down the table: this time demand was down 17% on a year ago, producing a fall of six places in the table to 35th.
This is partly because of the increasing preference for the open source alternative, Linux, currently in 17th place. But the decline of Unix also reflects a shift of interest away from operating systems generally. The highest Windows variant, XP, is lower in the table than Linux, at 22nd. This is despite the fact that demand for XP was well over double that of a year ago.
Smith sees this as a reflection of the static state of operating system development. "There has been little change over the past five or six years, no real kickers," he says.
The main issues during this period have been open source versus proprietary and the best way to exploit the new opportunities opened up by the web-based world. So the emphasis in job advertisements has been less on operating systems and more on development tools and methods.
Expertise in C#, .net, Java, J2EE and the like have been the focus of attention, and this is reflected in the chart. C# has made the top five for the first time and .net is now sixth both are in their highest position to date.
Smith believes that Vista will change this. "The independent software supplier community is beginning to move into the next development stage because of Vista," he says.
There is as yet no sign of this movement in the SSL figures: IT industry recruitment fell during the first quarter in both the permanent and contract markets. The discrepancy is understandable - Smith's opinion is based on direct feedback from recruiters about what they are planning to do, while the SSL figures show what those recruiters have done.
There was a notable upsurge in demand for enterprise resource planning skills in the first quarter, especially in demand for SAP, which shows the highest growth rate of any skill in the top 25 at 82%. This is because of the number of major SAP implementations that are currently underway.
How the survey is conducted
This article is based on information from the SSL/Computer Weekly Quarterly Survey of Appointments Data and Trends.
The survey analyses ads for IT professionals on the web, in the trade press and the quality national dailies and Sundays. It is intended primarily for recruitment agencies and CIOs with a substantial recruitment requirement.
The posts are broken down into 55 categories, which include details of the number of posts advertised and the average and median national salaries offered for the past five quarters.
The survey provides further analyses within each job category by platform type, industry sector and regional location. It also gives a breakdown of the technical skills most in demand.
The survey costs £250 per issue or £350 for an annual subscription. This covers four issues and includes a free software program which allows selection of combinations of region, industry and software skills for specified job types. You can order it online.
Thousands of new IT jobs expected in Scotland >>
Hot skills: find the skills needed to get ahead >>
Comment on this article: computer.weekly@rbi.co.uk
Read more on IT jobs and recruitment