Digital pen and paper delivers cost savings for medical company
Medical examinations company Medicals Direct is rolling out a digital pen and paper system to 500 nurses.
This Article Covers
RELATED TOPICS
Medical examinations company Medicals Direct is rolling out a digital pen and paper system to 500 nurses.
Nurses employed by Medicals Direct carry out 15,000 to 16,000 medical examinations a month on behalf of insurance companies and the shift to using digital forms is leading to large time savings.

Download this free guide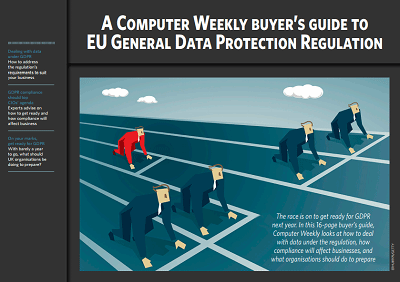 Computer Weekly's Buyer's Guide to GDPR
The race is on to get ready for GDPR next year. Computer Weekly looks at how to deal with data under the regulation, how compliance will affect businesses, and what organisations should do to prepare.
By submitting your personal information, you agree that TechTarget and its partners may contact you regarding relevant content, products and special offers.
You also agree that your personal information may be transferred and processed in the United States, and that you have read and agree to the Terms of Use and the Privacy Policy.
Managing director Jonathan Benton said, "Our average turnaround for an examination was 14 days. We are getting 14 days down to eight days. It is bringing huge benefits to our customers."
Medicals Direct nurses fill in paper forms that are printed on a complex pattern of dots. The digital pen contains a camera that measures the movement of the pen over the pattern of dots. The pen's movements are sent to a mobile phone using Bluetooth.
Once the nurse has signed the form on completing an examination, the data is sent to Medicals Direct's head office IT systems.
The company has spent £400,000 on a two-year contract with Paper IQ to provide 500 digital pens, 500 Blackberry devices with Bluetooth functionality, and 500 airtime contracts with O2.
Its IT department spent 300 man-days integrating Paper IQ's server architecture with its proprietary system for managing appointments. IT staff also had to integrate with the Blackberry Enterprise Server.
They used a W3C standard, WS Eventing, to integrate with both platforms.
Medicals Direct also developed its own mobile application to work on the Blackberry devices. Using Research in Motion's Mobile Design Studio development tool, the IT department took just 20 man-days to build an application that could send and receive XML push messages containing appointments.
Read more on Data centre hardware