NHS joint IT chief resigns after six months in the job
Only senior figure to criticise NPfIT takes post with Irish Health Service
Aidan Halligan, the clinician appointed as joint senior responsible owner of the world's biggest civil IT project, has decided to quit after only six months.

He will be the second SRO to leave since the project was launched two years ago. He has also been the most senior figure in the Department of Health to be openly critical of aspects of the £2.3bn national programme for IT in the NHS, while remaining an enthusiastic supporter of its aims and plans.

Halligan, who is returning to his native Ireland to lead the health service there, has acknowledged that not enough had been done to win the support of clinicians. Their buy-in, he said, was critical to the success of the initiative.

Only last month Halligan said, "There has not been much engagement by clinicians in the early stages of the programme and for that, I apologise. We do need to be open and honest and the most important part of communication is listening."

Vince Cable, Liberal Democrat shadow chancellor and former chief economist at Shell, said, "This IT project is arguably the biggest in the world. Historically, government IT projects have a record of mismanagement.

"Any carelessness in strategic management is likely to have disastrous consequences for the project and the loss of two senior figures within the project does not bode well for it. "Much of the Gershon Review [of government spending] is predicated on the success of this project and so it is absolutely essential that all is done to ensure this."

A spokesman for the NPfIT said there was nothing untoward about Halligan's decision - he was made an offer he could not refuse.

Halligan was seen as having the most challenging job on the NPfIT - selling to clinicians the idea of national systems, including a central database of health records and the online booking of hospital appointments.

Implementation of national systems, he warned, "will not work unless it is owned locally". He has also been tacitly critical of the national programme's reluctance to discuss the programme's limitations.

"We have to be open with everyone about what [the programme] can and can't deliver," said Halligan.

But it is unclear how much support the Department of Health gives to the need for clinical engagement. Halligan combined his NPfIT work with the role of deputy chief medical officer and the official announcement of his departure made only a brief mention of his IT-related work.

It has also emerged that the Department of Health has delegated some of the responsibly for clinical engagement to trusts. By July, trusts in London were required, as part of implementation preparation for the care records service, to "provide demonstrable commitment" from clinicians.

One reason the role of senior responsible owner was created by the Office of Government Commerce was to help prevent IT disasters by ensuring that the same person sees a programme through from conception to delivery of benefits.

But Halligan is the second senior responsible owner on the national programme to announce his departure. The other was John Pattison, a pioneer of the programme.

In April, Halligan told Computer Weekly that the main challenge was not a technical one but giving adequate attention to the human element of changing behaviour.

He has also faced resistance from doctors who believe that the national programme will lead to their being forced to replace their systems

Halligan will remain in post until April, when he will become chief executive for the Irish Health Service Executive. He described the move as a "fantastic, once-in-a-lifetime opportunity". Until April, he said it would be "business as usual for me here in England".

A spokesman said no decision had been taken on whether to replace Halligan as joint senior responsible owner for the national programme.

Download this free guide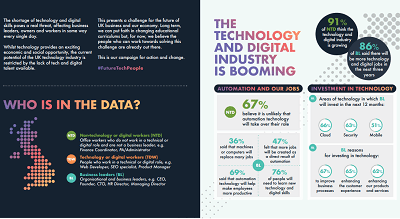 Infographic: Future-proofing UK technology
The shortage of technology and digital skills poses a real threat, affecting business leaders, owners and workers in some way every single day. Whilst technology provides an exciting economic and social opportunity, the current potential of the UK technology industry is restricted by the lack of tech and digital talent available. This presents a challenge for the future of UK business and our economy. Long term, we can put faith in changing educational curriculum but, for now, we believe the people who can work towards solving this challenge are already out there.
By submitting your personal information, you agree that TechTarget and its partners may contact you regarding relevant content, products and special offers.
You also agree that your personal information may be transferred and processed in the United States, and that you have read and agree to the Terms of Use and the Privacy Policy.
Issues facing the national programme
The Health Informatics Committee of the British Computer Society has warned, "The level of complexity, the barriers to overcome and the means to achieve change are not agreed and are generally underestimated."
Doctors who use systems that meet their specific needs will resist having standardised solutions imposed on them which they see as less useful. IT executives and doctors in Wirral, for example, have an electronic health record system that they say is years ahead of the national programme's plans.
The total cost of the national programme could be much higher than budgeted for. Some trusts have expressed concern over whether they can afford the cost of local implementations.
Some trusts urgently need to replace systems but can only buy from local service providers that do not yet have proven products to give them. Some other trusts do not want the systems they will be given by the local service providers.
Doctors with GPs' system Emis - whose users comprise more than half of the family practitioners in England - are campaigning against what they see as the national programme's plan to restrict their choice of systems.