Sun boss claims Red Hat is 'proprietary'
A new front has opened in the imbroglio between Sun Microsystems and the open-source community after Sun's president and chief...
A new front has opened in the imbroglio between Sun Microsystems and the open-source community after Sun's president and chief operating officer Jonathan Schwartz said the Red Hat Linux kernel was proprietary.

Download this free guide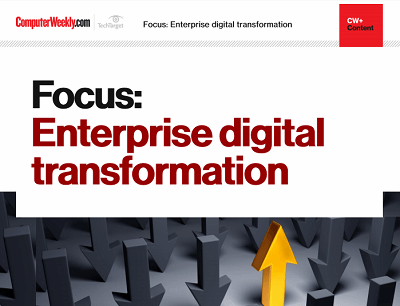 Are you digital to the transformation?
Digital transformation - the buzzword that we can't get away from. Enterprises need to accelerate their digital transformation journeys to avoid being left behind in an increasingly digital world. It's not an easy feat, but one that can be costly to get wrong. Join us as Computer Weekly takes a look at how businesses can stay on track through collaboration, innovation, and listening to user needs.
By submitting your personal information, you agree that TechTarget and its partners may contact you regarding relevant content, products and special offers.
You also agree that your personal information may be transferred and processed in the United States, and that you have read and agree to the Terms of Use and the Privacy Policy.
The comment was made as part of a conversation in which Schwartz mentioned the possibility of opening the Java source code, previously seen as something of a shibboleth for the company. His reservations regarding Red Hat were that to open Java would encourage forking - the problem of multiple versions, which dissipates the development effort and whose deleterious effect has blighted Unix for decades.
"There is a fork in the Linux world: Red Hat and the others," Schwartz was quoted as having said. "Red Hat has pretty much forked the distribution. This has given Red Hat tremendous gains for now, but ultimately it's an impediment in the growth of Linux."
Linux founder Linus Torvalds disagreed. "It's not proprietary, and a number of the top Linux kernel contributors are Red Hat employees."
But Sun's Schwartz would have any of it. Yesterday he repeated the charges - namely that Red Hat has "forked" Linux on the server side.
Equally adamant was Red Hat spokesman Leigh Day. "We are fully committed to open source and our code reflects that. Red Hat has no proprietary software built in our distribution. Our core strategy is built on open source and we will not deviate from that strategy."
Day added that although binaries were not freely available, source code was, fulfilling the terms of the GPL (General Public License).
Responses from those within the open-source community, who might be expected to be most sensitive to any notion of closed source software, are in broad agreement with this sentiment.
Schwartz has also said that users would find better Linux compatibility if they shifted to Solaris. Sun's proprietary operating system.
Manek Dubash writes for Techworld.com
Read more on Operating systems software