Web services still challenged by standards
Web services integration technology remains subject to a plethora of standardisation efforts and competing interests, panelists...
Web services integration technology remains subject to a plethora of standardisation efforts and competing interests, panelists noted during the Web Services Edge 2003 West conference in California.

Download this free guide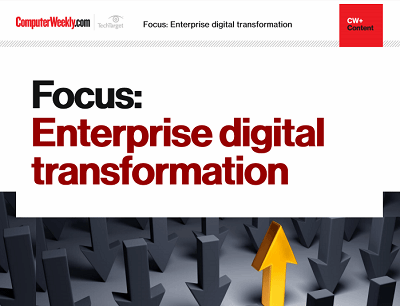 Are you digital to the transformation?
Digital transformation - the buzzword that we can't get away from. Enterprises need to accelerate their digital transformation journeys to avoid being left behind in an increasingly digital world. It's not an easy feat, but one that can be costly to get wrong. Join us as Computer Weekly takes a look at how businesses can stay on track through collaboration, innovation, and listening to user needs.
By submitting your personal information, you agree that TechTarget and its partners may contact you regarding relevant content, products and special offers.
You also agree that your personal information may be transferred and processed in the United States, and that you have read and agree to the Terms of Use and the Privacy Policy.
Panelist Michael Champion, an advisory research and development specialist at Software AG, pointed to complexity as one of the issues holding up the development of web services.
"It's really hard to point the finger at the standards people who are trying to slog through this to try to find out what it really means in some sort of consensual way," said Champion, co-chairman of the World Wide Web Consortium (W3C) Web Services Architecture working group.
Toufek Boubez, chief technology officer at Layer 7 Technologies, said marketing efforts in the web services standards process can actually make the process go too fast.
"There's as much marketing in web services standards as there is technology," Boubez said.
Panelist Edward Cobb, vice-president of architecture and standards at BEA Systems, said competition in standards is not necessarily bad.
"A lot of the easy problems in standardisation have been solved," as demonstrated by the industry's embracing of WSDL and Soap, according to Cobb.
"The areas that we're trying to standardise now are really from a technology perspective much less mature," he said, citing as examples business process engineering and reliable messaging.
He suggested more consumer involvement in web services standardisation and less dominance by suppliers.
Boubez responded that most users do not have the time or resources to participate on standards bodies.
Panelist Edwin Khodabakchian, chief executive officer of Collaxa, said suppliers recognise integration is a challenge and that they should work together to increase the size of the application integration pie. But suppliers also want to protect their own interests.
But Standards are not about innovation, he said, adding that "at the end of the day, we always see convergence".
Paul Krill writes for InfoWorld
Read more on Operating systems software