Microsoft outlines System Center management package
Microsoft discussed plans for a suite that integrates several of its management software products at its second annual Microsoft...
Microsoft discussed plans for a suite that integrates several of its management software products at its second annual Microsoft Management Summit in Las Vegas yesterday.

Download this free guide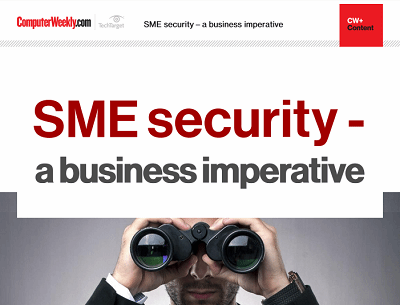 The secret to winning - SMEs and cyber security
50% of SMEs plan to spend less than £1000 on cyber defenses in the next year and only 42% of SMEs are concerned about ransomware. Anyone see a problem? Computer Weekly outlines some solutions to this growing naive trend.
By submitting your personal information, you agree that TechTarget and its partners may contact you regarding relevant content, products and special offers.
You also agree that your personal information may be transferred and processed in the United States, and that you have read and agree to the Terms of Use and the Privacy Policy.
The first release of Microsoft System Center will bundle together two forthcoming products, Microsoft Operations Manager (MOM) 2004 and Systems Management Server (SMS) 2003. But with MOM 2004 not due out until mid-2004, System Center's arrival remains distant.
The centrepiece of the summit was Microsoft's "Dynamic Systems Initiative", aimed at reducing data centre complexity by increasing the self-descriptive capabilities of applications.
The creation of System Center is part of that same vision for increasing simplicity and flexibility, said David Hamilton, director of Microsoft's Enterprise Management Division. "We're heading toward delivering one unified enterprise management solution. This is the first deliverable of that multiyear roadmap."
SMS 2003 is a tool for managing configurations of Windows desktop and server machines. The software is in beta now and is scheduled for a September release.
Handling of mobile devices was one key area targeted in the overhaul, with support for devices running Windows CE added to SMS 2003.
Another new feature is software metering. SMS 2003 can inventory what applications are installed on managed machines and track their usage.
The second piece of System Center, MOM 2004, updates Microsoft's MOM 2000 performance management software. In addition to new features, such as graphical system views and enhanced reporting tools, the software will be tailored for much faster deployment, cutting start-up time down from weeks to hours.
Once MOM 2004 and SMS 2003 are released, Microsoft will focus on System Center, which will feature tight integration between the two products.
"We'll be utilising the [products'] data warehousing capabilities to provide consistent data about systems," Hamilton said. "You might be deploying security patches on Windows servers and monitoring your Exchange server, and you'll probably want to correlate information on those. So we'll enable that."
Pricing for System Center, and for MOM 2004 and SMS 2003, has not yet been determined.
Read more on IT for small and medium-sized enterprises (SME)