Veritas upgrades backup software
Veritas Software has upgraded its flagship data backup technology and has embarked on an acquisition-fuelled strategy to expand...
Veritas Software has upgraded its flagship data backup technology and has embarked on an acquisition-fuelled strategy to expand into other IT management technologies.

Download this free guide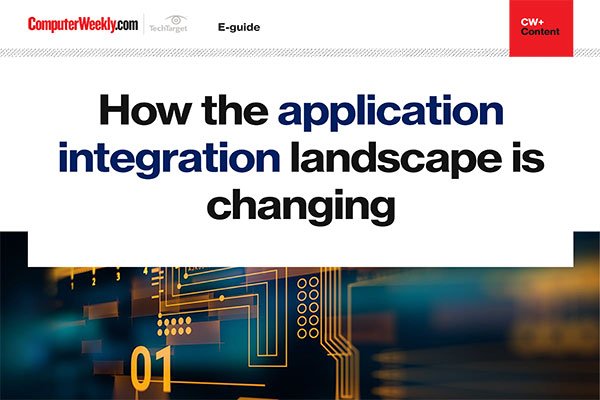 8 ways in which the application integration lanscape is evolving
We take a look at how technologies like Distributed Computing and the Common Object Model have been refined into web services, service-oriented architecture and composable applications and microservices.
By submitting your personal information, you agree that TechTarget and its partners may contact you regarding relevant content, products and special offers.
You also agree that your personal information may be transferred and processed in the United States, and that you have read and agree to the Terms of Use and the Privacy Policy.
The plan to augment products such as its NetBackup software with server and application management tools to help Veritas compete against more diversified rivals such as EMC, Computer Associates and IBM.
Veritas officials said their goals are to offer IT administrators a bundled suite of management tools and increase the company's annual revenue from $1.5bn (£950,000) to $5bn (£3.2bn) over the next three years.
Tom Guthrie, vice-president of technology operations at Cox Communications said the move by Veritas has definite value.
"With all of our suppliers, we've encouraged them to go up the value chain in areas they're good at, and we're happy to interact with them about that," Guthrie said.
Guthrie recently standardised backup operations on Cox's 10TByte storage-area network (San) by installing NetBackup.
Veritas has announced three acquisitions since November, adding products in areas such as server provisioning and application performance management.
Bill Augustadt, chief technology officer at BlueStar, said the ability to pool server capacity to address application needs and then monitor performance on the fly should help the application outsourcing firm control its services more efficiently according to customer needs.
"Any automation we can do will allow us to scale across platforms with fewer people to manage them," said Augustadt, who uses various Veritas products to handle data backups on a 160TByte San.
Anders Lofgren, an analyst at Giga Information Group, predicted that other storage software suppliers will adopt similar expansion plans. But, he added, "for Veritas to build credibility outside of the storage management space - that will take some time."
NetBackup 4.5 includes a feature called Instant Data Recovery, which lets users recover data directly from disk drives instead of from tape devices, Veritas said. The upgrade also streamlines the process of storing Microsoft Exchange e-mail attachments.
Read more on Integration software and middleware