Cisco reorganises into 11 groups
Cisco is to reorganise itself into 11 distinct technology groups as it aims to address what it sees as consolidation in the...

Download this free guide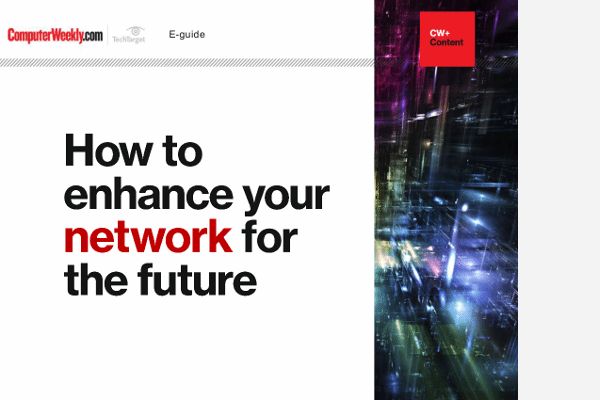 How to enhance your network for the future
Latest on networking developments and directions: NFV, self-optimising networks and IoT enabled smart cities
By submitting your personal information, you agree that TechTarget and its partners may contact you regarding relevant content, products and special offers.
You also agree that your personal information may be transferred and processed in the United States, and that you have read and agree to the Terms of Use and the Privacy Policy.

Cisco is to reorganise itself into 11 distinct technology groups as it aims to address what it sees as consolidation in the communications market.



The new structure will include groups focused on areas such as network management services, routing and storage products. It will replace the current structure, which was geared towards addressing three "lines of business", the enterprise, service provider and commercial markets.

John Chambers, Cisco president and chief executive officer, said: "The line-of-business approach worked in the past because vendors were dealing with distinct customer segments and product requirements.

"However, consolidation in the market for communications products has blurred the lines between those segments."

Chambers added that the company was making the changes at a time when it was starting to see signs that its business was stabilising, with orders for the first weeks of the current quarter being in line with expectations.

The other technology groups into which the company is reorganising itself include access, aggregation, Internet switching and services, Ethernet access, optical, voice and wireless.

Tam Dell'Oro, of the market research firm Dell'Oro Group, said: "By consolidating a large number of items under a fewer number of managers there's more focus.

"When you have one person overseeing a broader number of things, they can make comparisons more quickly."

As part of the reorganisation Kevin Kennedy, the senior vice-president of the company's service provider business, will leave Cisco after eight years of service to pursue "external opportunities". Kennedy will retain a role as an industry and technical advisor to the company.

Mario Mazzola, a former senior vice-president of Cisco's new business ventures group, has been named chief development officer and will oversee the 11 technology groups, reporting directly to Chambers.

Mike Volpi, formerly Cisco's chief strategy officer, will lead the Internet switching and services group, which will be the largest of the new sectors. Charles Giancarlo, who was senior vice-president of the commercial division, will run four of the other groups. Both men will report to Mazzola.

James Richardson, formerly senior vice-president of the enterprise division, will become chief marketing officer under the new scheme.
Read more on Network hardware