More training needed to entice young blood


Bill Goodwin
Employers were urged to step up their training efforts as evidence emerged that the number of young people entering the IT...
Bill Goodwin
Employers were urged to step up their training efforts as evidence emerged that the number of young people entering the IT profession is falling dramatically.

Download this free guide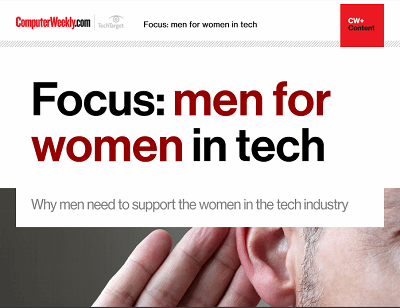 Men for women in tech
There is still a lack of diversity in the IT industry despite many initiatives designed to make the sector a place that women want to work. Many believe these strategies only work with support from the top, and as most of those in c-suite positions are male it makes sense that we need the support of the men in the industry to increase the number of women entering tech careers. This guide offers a collection of articles showcasing some of the men who are helping women to progress in the technology industry and the methods they are using to do so, such as providing mentoring, taking unconscious bias into account during hiring and encouraging young people into science, technology, engineering and maths (Stem) careers.
By submitting your personal information, you agree that TechTarget and its partners may contact you regarding relevant content, products and special offers.
You also agree that your personal information may be transferred and processed in the United States, and that you have read and agree to the Terms of Use and the Privacy Policy.
Over the past 10 years the proportion of IT workers under 30 has plummeted from 43% to 32%, radically changing the make-up of the IT workforce, research from Computer Economics reveals.
The findings have raised fears that there is not enough young blood entering the profession to meet the expected boom in demand when e-commerce takes off in two or three years' time.
Employers have either abandoned or scaled down their graduate recruitment programmes as they move towards outsourcing their IT departments.
Outsourcing companies have also slimmed down their recruitment efforts, leading to an overall fall in the proportion of young people in the workforce.
But the declining numbers may create a backlash for employers as e-commerce begins to take off, warned Philip Virgo, strategic advisor to the Institute for the Management of Information Systems. Employers should start training workers of all ages in the skills they need for e-commerce now and they should start creating the incentives to keep them, he said.
"You can't recruit experienced youngsters because they don't exist. You have to train your own and work out how to keep them."
Computer Economics' research shows a sharp division in the IT jobs market. Demand for traditional skills has fallen dramatically while demand for e-commerce-related skills is increasing.
Its findings show that overall demand for IT workers has yet to pick up from the year 2000 downturn. But demand for developers, who have the skills needed for new e-commerce implementations, is vibrant.
Are you being paid what you're worth?
| | |
| --- | --- |
| Position | Average UK salary (£) |
| Development manager | 53,564 |
| Systems development manager | 46,473 |
| Senior project manager | 50,630 |
| Senior business systems manager | 53,685 |
| Systems manager | 47,107 |
| Technical support manager | 44,794 |
| User support manager | 40,756 |
| Administration manager | 41,908 |
Source: Computer Economics
Read more on IT jobs and recruitment