Nationwide values shop fronts as Internet candy


John Riley
Nationwide Building Society is using IT to buck a trend of closing branches in the financial services sector.
While...
This Article Covers
RELATED TOPICS
John Riley
Nationwide Building Society is using IT to buck a trend of closing branches in the financial services sector.
While many financial organisations are closing their branches and relying on technology instead, Nationwide is holding on to its branch offices to take full advantage of the Internet revolution.

Download this free guide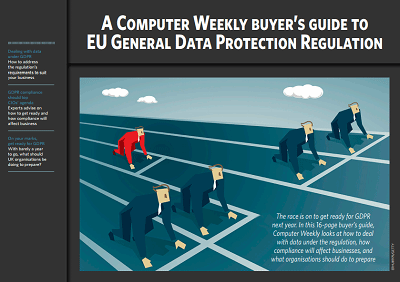 Computer Weekly's Buyer's Guide to GDPR
The race is on to get ready for GDPR next year. Computer Weekly looks at how to deal with data under the regulation, how compliance will affect businesses, and what organisations should do to prepare.
By submitting your personal information, you agree that TechTarget and its partners may contact you regarding relevant content, products and special offers.
You also agree that your personal information may be transferred and processed in the United States, and that you have read and agree to the Terms of Use and the Privacy Policy.
Brian Davis, Nationwide chief executive officer, who outlined his innovation strategy at the Technical Infrastructure Forum conference last month, was formerly an IT director, one of the very few who have made it to CEO.
Davis said the value of branches is as physical browsing locations, where people go to window shop and seek advice. They then go home and buy on the Internet. The two go hand in hand.
This belief underlies why Nationwide has always followed a strategy that integrates the Internet operation closely with the traditional business, keeping a unified branding across both activities. "The danger is when these operations fall into silos," he said.
Referring to Internet operations like Prudential's Egg and Halifax's IF, Davis questioned whether firms that really trusted their strategy should divorce the two activities. "We've always just been nationwide.co.uk," he said.
Companies need to get the right balance between pioneering and delivering the business basics, Davis told the conference. Nationwide has notched up several technology firsts, including the introduction of PC home banking into the UK in June 1995, and the first iris scanning implementation in the world.
But Davis keeps his R&D budget small. "Prioritisation is fundamental," he said, "the nice-to-haves must be rigorously screened against strategy."
He classes all new ideas as "no" or "maybe", follows up with desk research, requires a senior sponsor and then constantly re-appraises.
Davis's current IT-related priorities include the Euro, a new general ledger and various process improvements, along with voice response technology pilots and more personalised money management systems. "The Internet is taking up a phenomenal amount of our time," he said.
Read more on Data centre hardware