Just the ticket on the Web
Jon Mason says focus groups made designing an electronic box office easier by providing feedback.
This Article Covers
RELATED TOPICS
Jon Mason says focus groups made designing an electronic box office easier by providing feedback.



When it came to developing an online box office, developer Jon Mason found just the ticket in firstcalltickets.com, writes Martin Couzins.

Mason, who works for Web development agency WorkZone, explains that the company had won the redesign of firstcalltickets.com just before last Christmas but did not have a lot of time to get it up and running.

Download this free guide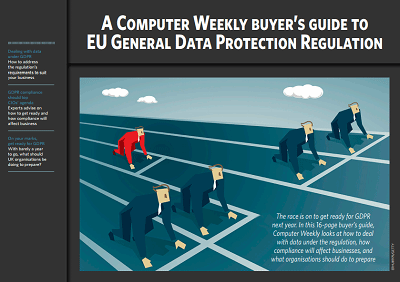 Computer Weekly's Buyer's Guide to GDPR
The race is on to get ready for GDPR next year. Computer Weekly looks at how to deal with data under the regulation, how compliance will affect businesses, and what organisations should do to prepare.
By submitting your personal information, you agree that TechTarget and its partners may contact you regarding relevant content, products and special offers.
You also agree that your personal information may be transferred and processed in the United States, and that you have read and agree to the Terms of Use and the Privacy Policy.
"The project was working to a pretty tight deadline, and from concepts [presented in January] to going live took eight weeks. That's no mean feat as it's not a small site because there are so many types of ticket on offer."
But WorkZone did not work in isolation on the Web site, which is basically an electronic box office where people can buy tickets to sports, theatre, music, dance or comedy events. The purchasing part of the Web site, for example, links to First Call's BOCs system which is also used by its call centre.
Mason was part of a five-strong team working on the Web site. His responsibilities included page production and related programming (Javascript, CGI and HTML).
"We worked closely with First Call's e-commerce and technical team which had set up a development area for us in its own IT environment. We produced and tested pages in our own environment [Mac] then uploaded them to First Call's test area on a Unix server, then integrated with its back-office systems when appropriate and tested again. This process meant that the migration to the live server went smoothly as we were already working on a server which mirrored the live environment," says Mason.
As well as technical co-operation, First Call ran focus groups to see how people reacted to the design, navigation and content of the site. The positive feedback was an important fillip for the development team.
"It makes a huge difference for us to know this, in terms of sense of achievement and that we were on track with what we were doing," Mason says.
But the process was not all plain sailing as First Call announced its merger with tickets.com right in the middle of the project.
"That was a bit of a surprise," says Mason, but the site still went live on deadline and to budget. Mason describes the site going live as a "great moment".
Curriculum Vitae
Name: Jon Mason
Age: 26
Qualifications: OND and HND in electrical and electronic engineering and completed two years of a computer sciences degree
IT skills: Javascript, CGI, HTML, DHTM, XML, WML
Hobbies: music and clubbing
Favourite book: Zen and the Art of Motorcycle Maintenance
Favourite pub: The Fountain, Ashurst
Moore on Moore: vegetarian, techno freak
Read more on Data centre hardware