Intel launches barrage of new mobile chips
Intel is pressing ahead with the launch of 12 new mobile chips, despite more figures showing that PC shipments worldwide are in...
This Article Covers
RELATED TOPICS

Download this free guide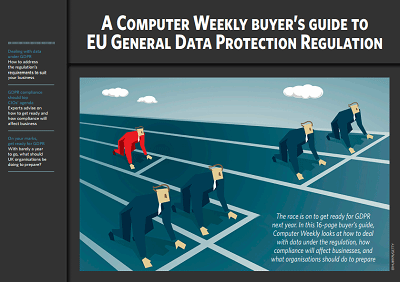 Computer Weekly's Buyer's Guide to GDPR
The race is on to get ready for GDPR next year. Computer Weekly looks at how to deal with data under the regulation, how compliance will affect businesses, and what organisations should do to prepare.

Intel is pressing ahead with the launch of 12 new mobile chips, despite more figures showing that PC shipments worldwide are in recession.



Dell and Toshiba have confirmed plans to use the new chips in their upcoming notebooks, with Intel declaring that all of the major notebook makers will begin using one or more of the new chips in the weeks ahead.

The fastest of the bunch to be released is the new 1.2GHz Mobile Pentium III M chip, which, despite being Intel's quickest-ever mobile processor, is only moderately quicker than its existing 1.13GHz Pentium III M chip.

The barrage of new releases is seen as a response by Intel to rival Transmeta, which claimed its chips would use noticeably less power than Intel products while offering comparable performance.

Tests showed that Transmeta's processors did offer some power savings, but not as much as promised.

On the other hand, the new range of Intel chips has captured the imagination of the leading vendors, with Compaq planning a mini-notebook based on one of the new low-power processors.

The PC market does not look so rosy for the chip maker, with PC shipments around the globe plummeting for the second consecutive quarter, and analysts predicting that a recovery appears unlikely in the coming months.

IDC and Gartner have said that PC shipments in the third quarter of this year fell by between 12% and 14% compared to the same quarter in 2000, with the 11 September attacks in the US exacerbating the problems of an already weak US economy.

Dell was the only international PC vendor to show positive results for the quarter, with 10% growth worldwide. This figure is significantly down on the strong growth the vendor has enjoyed prior to the current slump.

Other factors, such as market saturation, the proposed merger of HP and Compaq, global political uncertainties and even typhoons in Taiwan have been cited as contributors to the slowdown.

Intel has also announced plans to close its consumer electronics products business by early 2002.

The division, which was established in 1998, produced a wide variety of electronic devices including toys, digital cameras and digital music players. The division's goal was to help create a large market for a variety of products that interact with PCs.

Intel said it would try to reassign the division's staff to other operations.
Read more on Data centre hardware