NetApp wins 200 petabyte deal with CenITex, establishes virtualisation centre of excellence
NetApp and Dimension Data have teamed to win storage, backup and recovery services for Victoria's shared services agency CenITex. NetApp will also create a new "Global Centre for Virtualization Excellence" in Australia.
NetApp has emerged triumphant in the race to win one of Australia's largest and most hotly-contested storage deals - the storage infrastructure for Victoria's shared services agency CenITex.

Download this free guide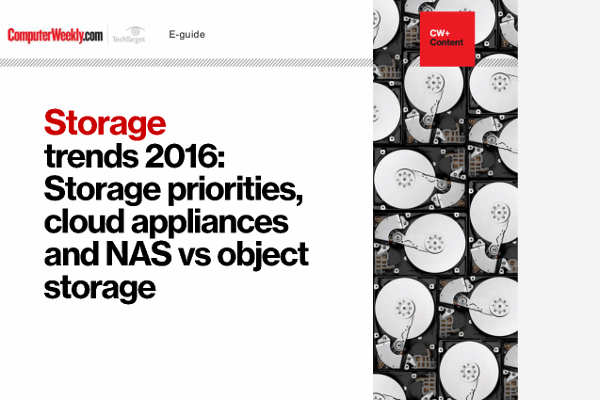 Storage trends 2016: Storage priorities, cloud appliances and NAS vs object storage
Our guide to the latest shifts in the Storage to-do list for IT departments, cloud appliance providers, and what to do with large volumes of unstructured data
By submitting your email address, you agree to receive emails regarding relevant topic offers from TechTarget and its partners. You can withdraw your consent at any time. Contact TechTarget at 275 Grove Street, Newton, MA.
You also agree that your personal information may be transferred and processed in the United States, and that you have read and agree to the Terms of Use and the Privacy Policy.

SearchStorage ANZ understands the initial brief for the deal is to provide around 50 petabyes of storage, but that the contract is expected to eventually escalate to 200 or more petabytes. If the deal reaches that size it will dwarf even Telstra as NetApp's largest local client and make CenITex one of the company's top global customers.
NetApp's work at Telstra helped to form the foundation for its private cloud technologies and the local expertise that contributed to those developments has now been dubbed a "Global Centre for Virtualization Excellence" that the company will create in Melbourne as part of the CenITex deal. NetApp company says the deal will mean it and its partners employ 100 people, both on the CenITex project and the centre of excellence, but details of the centre are scanty other than it being described as "a key enabler for the project." Nor is the role of virtualisation in the project explained, but given the company's previous work at Telstra and Suncorp it seems sensible to speculate that virtualisation will be put to work building a substantial private cloud.
NetApp 's Vice President for NetApp Australia and New Zealand Peter O'Connor said in a press release that "We are very pleased to be working with the Victorian Government, CenITex and Dimension Data on this project. It means we can help to build Victoria's home-grown talent, whilst helping to put the Government on the world stage for ICT excellence and intellectual incubation. NetApp's Global Centre for Virtualization Excellence in Melbourne is a key enabler for the project. It is the only centre of its kind in the world and helps to develop technologies and talent that will help take our customers forward into the next generation of technology efficiency and business breakthroughs."