Aussies and Kiwis create 14 billion gigabytes of data, fail to manage them well
EMC's says CIOs must plan to manage ever-increasing mountains of data. But analyst John Brand says their response is short-sighted and tactical.
Australians and New Zealanders collectively created 14 billion gigabytes of new data in 2008, according to new IDC research commissioned by EMC. But we did not manage this data well, with CIOs still responding to the never ending growth of data tactically.

Download this free guide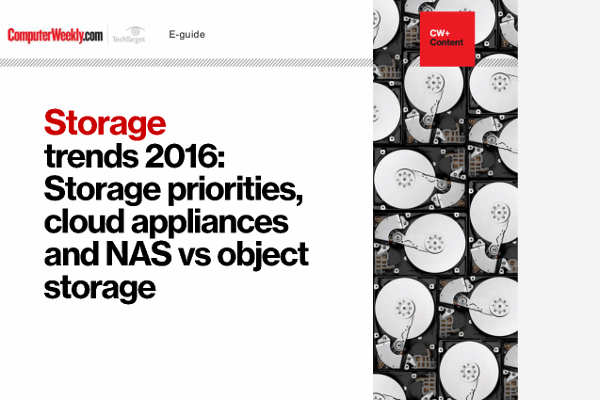 Storage trends 2016: Storage priorities, cloud appliances and NAS vs object storage
Our guide to the latest shifts in the Storage to-do list for IT departments, cloud appliance providers, and what to do with large volumes of unstructured data
By submitting your email address, you agree to receive emails regarding relevant topic offers from TechTarget and its partners. You can withdraw your consent at any time. Contact TechTarget at 275 Grove Street, Newton, MA.
You also agree that your personal information may be transferred and processed in the United States, and that you have read and agree to the Terms of Use and the Privacy Policy.

The new IDC research was unveiled to local audiences yesterday at EMC's Annual Inform event, at which EMC's President for Australia and New Zealand David Webster told a media briefing that the rate of data creation has not been slowed by the global financial crisis. CIOs, however, are therefore in crisis as they struggle to cope with the resulting demand for more and more storage.
"Companies risk losing the ability to get value from their data," Webster said.
Unstructured data remains the villain, as it has in so many EMC presentations in recent years, and the company now says that users bringing unstructured data into the enterprise from a variety of courses – including social media – is creating new data management challenges.
Webster therefore wants CIOs to think about how their organisations will manage data in five years, lest the accelerating pace of data creation overwhelm them.
Virtualisation will be an important part of staying underwhelmed, as the event's keynote featured VMware and Cisco delivering their joint version of the data centre's future.
But Hydrasight analyst John Brand said CIOs' most common response to the challenge is "denial."
"They are not thinking beyond the next budget cycle," he said. Content management is widely used, he added, while Wikis are being used to help keep a lid on data growth caused by version control. But such technologies are being applied selectively, rather than on an enterprise-wide basis.