A quarter of servers shipped in 2014 to support VM technology, says IDC
Almost a quarter of all servers shipped in 2014 will support virtual machine technology, according to report from analyst IDC; and other news in brief.

A quarter of servers shipped in 2014 to support VM technology, says IDC
Almost a quarter of all servers shipped in 2014 will support virtual machine (VM) technology, according to a report from analyst firm IDC. It surveyed more than 400 organisations currently deploying server virtualisation and expects 2010 to be the first year during which more than half of all installed application instances run inside a VM IDC anticipates the worldwide business virtualisation market to reach nearly $20 billion (£12.67 billion) by 2014.

Download this free guide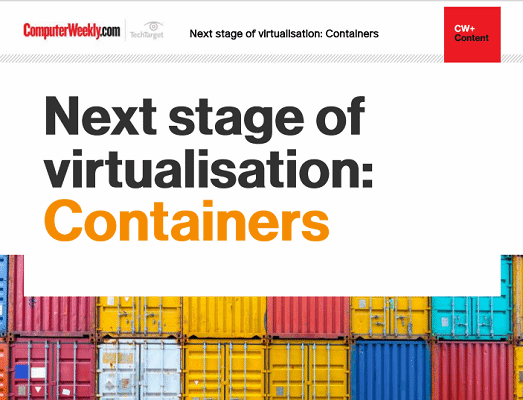 Next stage of virtualisation: Containers
Who doesn't love building blocks? Following the burst of cloud computing, containers are becoming a necessity for all organisational transformation and development. Follow us as we go through the technologies that complement and enhance their use, and outline a first-hand insight into the impact.
By submitting your personal information, you agree that TechTarget and its partners may contact you regarding relevant content, products and special offers.
You also agree that your personal information may be transferred and processed in the United States, and that you have read and agree to the Terms of Use and the Privacy Policy.
For more on virtual machines , click here.
VMware brings virtualisation to mobiles with LG partnership
VMware Inc. has teamed up with LG Electronics in an effort to bring virtualisation technology to smartphones. As part of the deal, VMware will work on ways to incorporate virtualisation technology into LG's handsets. During a conference call earlier this week, Srinivas Krishnamurti, senior director for mobile solutions at VMware, said the partnership will aid IT administrators in securing access to company data given increased use of handsets such as Apple iPhone and Android-based smartphones.
For more on VMware , click here.
SGI releases third gen ICE Cube Air
SGI is now shipping its third-generation ICE Cube Air, which is designed to use evaporative air cooling or chilled-water coils. Formerly known as Rackable Systems, the company claims to have completely eliminated the need for heating, ventilating, and air conditioning and the solution will house four compute racks. It ships in 20- and 40-foot lengths with a starting cost of £65,000.
For more on data centre cooling, click here.
IBM unveil data centre analytics tools
IBM has unveiled predictive analytics tools, based on intellectual property from 21 of its products. The tools are designed to allow CIOs to see trends in the data centre and forecast years down the line. Analytical capabilities include removing a server from a data centre and predicting how operational needs might have to align with future business demands. To assist in data centre planning and management, the tools use information including cash flow, physical threshold capacity and resiliency rationalisations.
For more on IBM , click here.
Kayleigh Bateman is the Site Editor of SearchVirtualDataCentre.co.UK.
Read more on Datacentre systems management