Weekly compilation of storage news:IBM, Seagate plan to rethink hard drives and memory
IBM and Seagate separately announce research projects into futuristic storage hardware; Morgan Stanley charged again over email; Dell CFO resigns; Xyratex acquires Ario IP.
IBM, Seagate announce plans to re-create hard drives
Both IBM and Seagate Technologies announced new research initiatives with other storage vendors to rethink the hard drive and memory. IBM, Infineon and Macronix announced a joint research initiative to explore the potential of a new form of computer memory technology called phase-change memory (PCM) that some experts say could replace both flash memory and the hard drive as they are currently known.

Download this free guide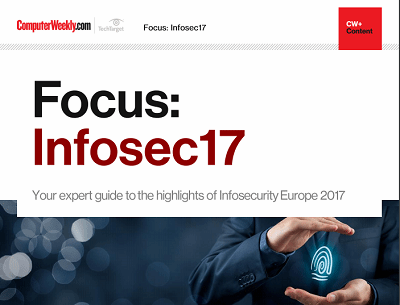 From forensic cyber to encryption: InfoSec17
Security technologist Bruce Schneier's insights and warnings around the regulation of IoT security and forensic cyber psychologist Mary Aiken's comments around the tensions between encryption and state security were the top highlights of the keynote presentations at Infosecurity Europe 2017 in London.

By submitting your personal information, you agree that TechTarget and its partners may contact you regarding relevant content, products and special offers.

You also agree that your personal information may be transferred and processed in the United States, and that you have read and agree to the Terms of Use and the Privacy Policy.

In a separate announcement, Seagate, along with Hitachi, Samsung and Toshiba, announced the Hybrid Storage Alliance, a new international group dedicated to providing the growing number of notebook PC users faster, more durable systems that run longer on a battery charge. Hybrid technology, which can be deployed in other mobile devices and computing systems, combines the hard drive with flash memory.

Morgan Stanley in hot water again over email
Just months after Morgan Stanley agreed to pay a record $15 million fine to settle a Securities and Exchange Commission (SEC) probe into its failure to preserve emails, the NASD has charged that Morgan Stanley DW Inc. inappropriately deleted millions more emails, according to a report in The Washington Post. Morgan Stanley claimed the emails in question, relating to a pending lawsuit, had been lost in the Sept. 11 terrorist attack on the World Trade Center.

Dell CFO to resign
Dell Inc.'s chief financial officer (CFO) will step down in January as the company responds to federal investigations into accounting practices, according to a report in the New York Times. Dell declined to comment on exactly why James Schneider has stepped down. Schneider will be replaced Jan. 1 with Donald Carty, a company director.

Xyratex to acquire Ario assets
Xyratex Ltd. announced that it has reached a tentative agreement with Ario Data Networks Inc. to acquire "certain intellectual property, capital assets and skilled [employees]." Ario will remain in business; a press release did not specify exactly which assets Xyratex will acquire. Ario is best known for its RAID-6 arrays. The transaction is expected to close on or about Dec. 29, 2006.

HDS unveils midrange software
Hitachi Data Systems Inc. (HDS) launched a new line of software products aimed at midsized businesses. The products include data management products for Microsoft environments, including Exchange and SQL Server; data protection and disaster recovery software; and configuration software for storage consolidation.

Japanese digital media giant deploys TeraScale
Force10 Networks Inc. announced that Impress Group, Japan's largest digital media corporation, has deployed its TeraScale E-Series family of switch/routers in its data center to connect databases, storage and Web applications to support more than 190 million page views per month.

Spectra Logic adds sixth frame

Spectra Logic Corp. has increased the maximum capacity of its Spectra T950 library by adding an optional expansion frame. The six-frame T950, which is now shipping, can manage up to 7450 tapes and 120 tape drives, and scales to 9.6 petabytes capacity. Pricing begins at $160,000 for a six-frame unit.

Expand Networks teams with Double-Take
Application acceleration vendor Expand Networks Inc. and replication maker Double-Take Software announced an alliance that will cross-market Expand's Compass WAN optimization platform and Double-Take's replication software.

Fujitsu to resell NeoScale encryption system
NeoScale Systems Inc. announced that its CryptoStor tape encryption appliance will be resold in Japan as part of a bundle with Fujitsu Ltd.'s Eternus LT tape libraries.

Storewiz finds partner
Data compression startup Storewiz Inc. announced that it is partnering with Prime Service Srl, an Italian storage integrator.
Read more on IT risk management