Research from specialist IT recruitment website, CWJobs.co.uk, reveals that recruiters are calling for IT professionals to take a different approach to looking for work. Some 88% of recruiters say they often see mistakes on IT jobseeker's CVs, and 46% say they don't think IT jobseekers represent themselves well on traditional paper CVs.
With 74% of IT professionals agreeing that they represent themselves better in person than on paper, CWJobs is exploring innovative solutions for jobseekers struggling to sell themselves through more conventional methods. CWJobs has given two IT jobseekers the opportunity to have their skills and experience brought to life by creating an augmented reality (AR) CV for them using virtual computer-generated imagery. To see the competition winner's AR CVs please visit ARCV.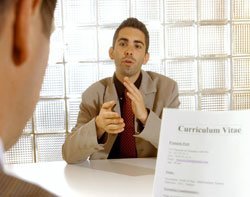 Rob Grimsey, Director of Harvey Nash, discusses some of the common mistakes he sees on more traditional IT jobseekers' CVs: "Selling skills on paper doesn't necessarily come naturally to IT jobseekers. We often come across CVs where people haven't explained the full extent of their achievements, preferring instead to just list skills. In addition to spelling mistakes and grammatical errors, it is also quite common for jobseekers to get the syntax of how they name technologies and products wrong.
"A capital letter or hyphen in the wrong place can leave recruiters questioning whether they truly know the technology they are writing about. The good news is that many of these mistakes are resolvable, simply by getting others to review the CV. After all it's one of the most important two-page documents of an IT professional's life."
According to the research, the five most common mistakes recruiters see on a typical IT jobseeker's CV are:
Spelling mistakes and grammatical errors (70%)
No clear demonstration of technical skills (64%)
Too lengthy (43%)
Rambling (41%)
Listing irrelevant skills (30%)
Where the average person shudders at the prospect of a job interview, research shows that IT professionals take it in their stride, with 82% feeling confident that they represent themselves well in an interview situation. However, 66% of IT recruiters say they regularly experience poor communication skills in the interview process. Rambling (47%) and inappropriate casual dress (27%) were also found to be common mistakes made.
Dawn Campion, managing director of Ellen Webb Plc says, "IT jobseekers must appreciate that they aren't necessarily going to be interviewed by people who fully understand both technology and the technical language they use. IT roles are increasingly client facing now and if IT professionals want to represent themselves well in a job interview situation, they must be able to show that they are able to communicate with non-technical as well as technical people competently."
Email Alerts
Register now to receive ComputerWeekly.com IT-related news, guides and more, delivered to your inbox.
By submitting your personal information, you agree to receive emails regarding relevant products and special offers from TechTarget and its partners. You also agree that your personal information may be transferred and processed in the United States, and that you have read and agree to the
Terms of Use
and the
Privacy Policy
.