Governments have begun working to combat cyber threats, but many are working on national initiatives to tackle a global problem, says Russian security firm Kaspersky Lab.
"To fix this problem, governments need to think internationally," said Eugene Kaspersky, chief executive and co-founder of Kaspersky Lab.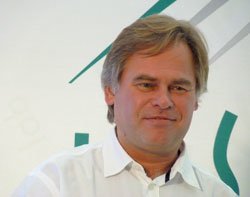 In an increasingly digital world, where all systems, including those for critical national infrastructures, are connected to the internet, every person, business and economy is at risk of cyber attack, he said.
Although cybercrime is a big and growing problem, cyber terrorism is an even greater concern, said Kaspersky.
"We have not seen any real instances of cyber terrorism yet, but it is technically possible and just about everyone depends on the internet," he said.
The Conficker worm has shown that criminals are able to build botnets of millions of hijacked computers.
"This means it is possible to build a botnet that has the power to halt the internet, but this threat is still not fully understood," said Kaspersky.
"The capability exits to do very serious damage. Not only for money, but to scare people, which is the definition of terrorism," he told Computer Weekly.
The danger is that big business sees cyber criminal attacks merely as a cost of business and is allocating budgets to cope, while governments are too focused on financial issues.
"Most are not willing to think seriously about the cyber issues, particularly about how these may be exploited to terrorise entire populations by taking down key services," said Kaspersky.
The IT security industry has a central role to play in cleaning up the digital world, he said, by developing secure technologies, educating end-users, including governments, and helping put cybercriminals in jail.
Ultimately, though, it is the responsibility of governments to set up ways of working together to protect the internet and to investigate and act against those who develop threat capabilities, said Kaspersky.
Email Alerts
Register now to receive ComputerWeekly.com IT-related news, guides and more, delivered to your inbox.
By submitting your personal information, you agree to receive emails regarding relevant products and special offers from TechTarget and its partners. You also agree that your personal information may be transferred and processed in the United States, and that you have read and agree to the
Terms of Use
and the
Privacy Policy
.