Top IT priorities for 2014 in Europe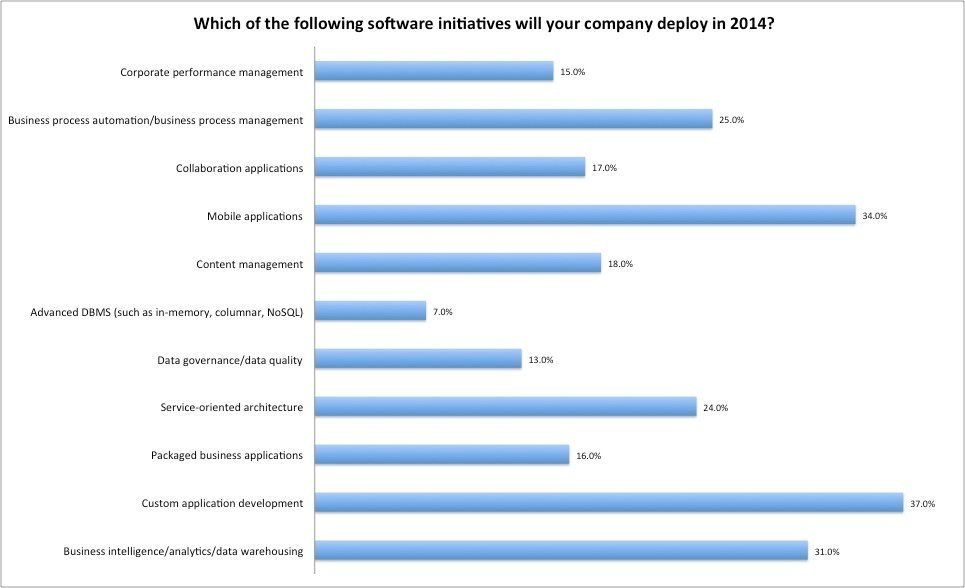 Custom application development is also still showing strong interest, according to the TechTarget/Computer Weekly IT Spending Priorities survey for 2014, while spending on software overall saw the biggest increase in expenditure – 52% in Europe as a whole, and 55% in the UK
IT seems intent on increasing investment in packaged business applications. This is especially the case in the UK, at 24%, as opposed to Europe as a whole at 16%.
Breaking those applications out reveals a significant increase in the implementation or upgrading of ERP systems – 59% in Europe in 2014, in contrast to 43% in 2013
Investment in customer relationship management (CRM) systems remains constant at 51%, while spending on human resources (HR) management software and supply chain management is similar: 25% for 2014, 27% for 2013 with respect to HR; 27% for 2014, 25% for 2013 for supply chain management software.
Download our IT Priorities 2014 Report.
Read more IT Priorities 2014 results
UK IT spending will outpace rest of Europe in 2014
Desktop strategy in 2014 to focus on mobile business
IT mobility trend continues in 2014
Open arguments stack up as hybrid cloud takes hold
Disaster recovery and virtual server backup top 2014 storage projects
SDN still failing to spark interest in Europe
ERP implementations, upgrades on the up across Europe in 2014
Network-based security tops European agenda for 2014
.
View All Photo Stories