Top IT priorities for 2014 in Europe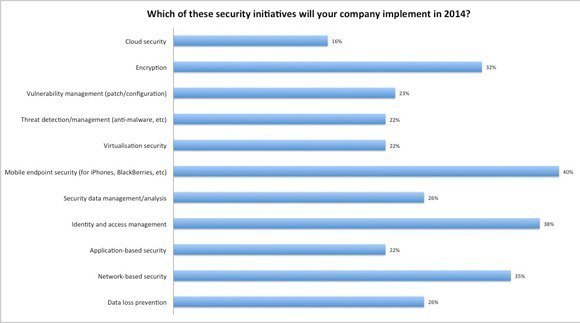 The main security projects for 2014 include data loss prevention, mobile and network-based security, and identity and access management. Among the top projects, encryption and threat detection are relatively low down on the list, with just 28% of respondents planning projects in these areas.
Just 21% of respondents  plan to implement cloud security. Similarly, 27% of respondents said they would implement threat-detection initiatives in the coming year, with 24% for encryption.
While the security industry is moving to intelligence-led systems, investment in this area remains relatively low, with just 23% planning to implement security data-management analysis.
Download our IT Priorities 2014 Report.
Read more IT Priorities 2014 results
UK IT spending will outpace rest of Europe in 2014
Desktop strategy in 2014 to focus on mobile business
IT mobility trend continues in 2014
Open arguments stack up as hybrid cloud takes hold
Disaster recovery and virtual server backup top 2014 storage projects
SDN still failing to spark interest in Europe
ERP implementations, upgrades on the up across Europe in 2014
Network-based security tops European agenda for 2014
View All Photo Stories