Top IT priorities for 2014 in Europe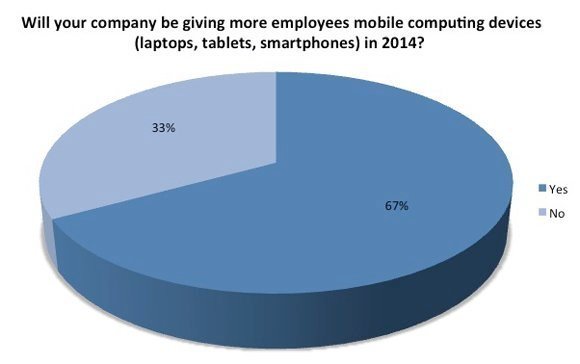 The 2014  TechTarget/Computer Weekly IT priorities survey of IT managers showed that 37% of IT leaders plan to implement a mobility strategy for their business this year.
The survey also found that 67% of enterprises plan to issue employees with mobile computing devices such as laptops, tablets and smartphones in 2014
Of the 440 people asked, 43% said they would be implementing tablet devices in their organisations during 2014, while 41% said they would be implementing smartphones.
This should come as no surprise, given the continued decline in PC sales. Gartner reported that PC shipments in Europe totalled 25.8 million units in the fourth quarter of 2013, a 6.7% decline from the same period in 2012.
Download our IT Priorities 2014 Report.
Read more IT Priorities 2014 results
UK IT spending will outpace rest of Europe in 2014
Desktop strategy in 2014 to focus on mobile business
IT mobility trend continues in 2014
Open arguments stack up as hybrid cloud takes hold
Disaster recovery and virtual server backup top 2014 storage projects
SDN still failing to spark interest in Europe
ERP implementations, upgrades on the up across Europe in 2014
Network-based security tops European agenda for 2014
View All Photo Stories