Top IT priorities for 2014 in Europe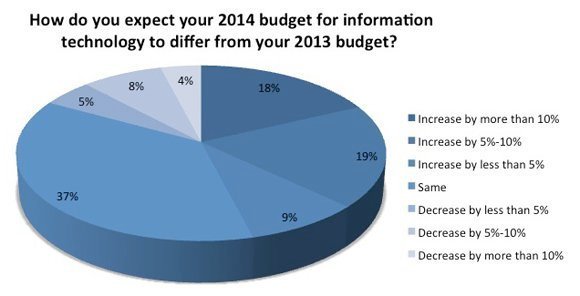 IT budgets in the UK are set to grow by 3.6% this year, compared with an average of 3% for Europe.  As the economy recovers, some 30% of UK IT professionals (29% Europe) said their priority would be to expand the use of IT to grow their business. Just over a quarter will concentrate their IT spending in a few strategic areas this year, while 13% plan to maintain service levels with flat budgets.
The survey found that 18% of IT professionals will increase there budget by 10%, while 19% said their IT budget will increase by between 5-10%. However, around 17% admitted their budgets would be going down in 2014.
Download our IT Priorities 2014 Report.
Read more IT Priorities 2014 results
UK IT spending will outpace rest of Europe in 2014
Desktop strategy in 2014 to focus on mobile business
IT mobility trend continues in 2014
Open arguments stack up as hybrid cloud takes hold
Disaster recovery and virtual server backup top 2014 storage projects
SDN still failing to spark interest in Europe
ERP implementations, upgrades on the up across Europe in 2014
Network-based security tops European agenda for 2014
.
View All Photo Stories