Essential guide to the EU General Data Protection Regulation (GDPR)
A guide to the new European Union data protection laws and how they affect your organisation
1

What you need to know

-
GDPR: What IT professionals need to know
What is GDPR, and what do IT leaders and IT professionals need to know about the new data protection laws?
2

GDPR compliance

-
Preparing for GDPR
All organisations face an onerous task to prepare for GDPR compliance - we examine the challenges

Download this free guide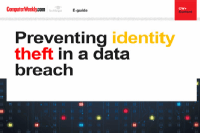 Preventing identity theft in a data breach
In this e-guide, we will explore the links between ransomware attacks, data breaches and identity theft. First, Nicholas Fearn investigates the phenomenon of the double extortion attack, and shares some insider advice on how to stop them, while we'll explore the top five ways data backups can protect against ransomware in the first place.
3

What GDPR means for you

-
GDPR: How it will affect your organisation
GDPR compliance is a critical task for every organisation - but what will be the impact of other issues such as Brexit, skills, or international trade? We look at the issues that affect you