Essential guide to the EU General Data Protection Regulation (GDPR)
A guide to the new European Union data protection laws and how they affect your organisation
1

What you need to know

-
GDPR: What IT professionals need to know
What is GDPR, and what do IT leaders and IT professionals need to know about the new data protection laws?
2

GDPR compliance

-
Preparing for GDPR
All organisations face an onerous task to prepare for GDPR compliance - we examine the challenges

Download this free guide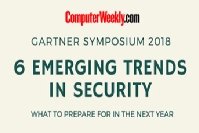 Infographic: 6 emerging trends in security
Download this infographic to discover 6 emerging trends in security that cybersecurity pros - and their employers - need to prep for in the next year. These ideas are taken from a keynote by analyst Peter Firstbrook at Gartner Symposium 2018.
3

What GDPR means for you

-
GDPR: How it will affect your organisation
GDPR compliance is a critical task for every organisation - but what will be the impact of other issues such as Brexit, skills, or international trade? We look at the issues that affect you