Essential guide to the EU General Data Protection Regulation (GDPR)
A guide to the new European Union data protection laws and how they affect your organisation
1

What you need to know

-
GDPR: What IT professionals need to know
What is GDPR, and what do IT leaders and IT professionals need to know about the new data protection laws?
2

GDPR compliance

-
Preparing for GDPR
All organisations face an onerous task to prepare for GDPR compliance - we examine the challenges

Download this free guide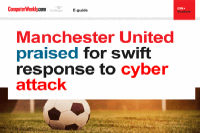 Manchester United praised for swift response to cyber attack
The Theatre of Dreams briefly turned into The Theatre of Nightmares as Manchester United Football Club suffered a cyber-attack on their systems on Friday 20th November. This e-Guide dives into more depth about how the attack happened and what Manchester United's cyber security team did, in order to prevent a loss of data and keep a clean sheet.
3

What GDPR means for you

-
GDPR: How it will affect your organisation
GDPR compliance is a critical task for every organisation - but what will be the impact of other issues such as Brexit, skills, or international trade? We look at the issues that affect you