Introduction
Computer Weekly has launched a major editorial programme to celebrate 50 years of British technology innovation. Why now? Well, quite simply because we are celebrating our 50th birthday – the 50th anniversary of the first issue of Computer Weekly, published on 22 September 1966.
We want to use this unique milestone in technology journalism to reflect on how much the British tech scene has contributed over that time – and of course, to celebrate our role in keeping IT professionals in touch with those developments week in, week out, for half a century.
We aim to put British innovation into context as the UK embarks on a period of decades to come when technology promises to change British culture and society, and the way we all live and work, more than any time in history. We believe the world is still in the early days of the digital revolution – we're at a time akin to people walking in front of cars waving a red flag to warn passers-by. And we believe that British technology innovation has the potential to be at the forefront of that revolution – if we make the right decisions, and learn the lessons from our history.
1

50 years of UK IT

-
1966 and all that - Computer Weekly's 50th anniversary
We look back on the state of UK IT at the time Computer Weekly was first published in 1966
2

Special 50th anniversary issue

-
The 50th anniversary commemorative issue
Computer Weekly published a special commemorative issue of the magazine to mark our 50th anniversary - download the 100-page special edition here
E-Zine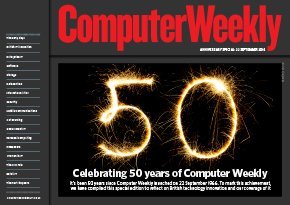 To commemorate 50 years since the first issue of Computer Weekly, published a bumper 100-page special issue looking back at 50 years of British technology history Continue Reading
3

British technology innovation

-
The UK's contribution to 50 years of technology innovation
We look back at British IT innovation in the key areas of technology over the last 50 years
4

Changing the way we work

-
50 years of change in British working life
Technology has changed every business and the way that public services are delivered - we look back at the key developments in the past 50 years
5

IT news for 50 years

-
What made the news in the past 50 years?
The Computer Weekly print archive is housed at the National Museum of Computing, whose experts selected the top IT news stories from each month over the last 50 years
6

50 years of Computer Weekly

-
Celebrating 50 years of British technology innovation
To celebrate Computer Weekly's 50th anniversary, we hosted a special event in London to look at the current state and future opportunities for tech innovation in the UK - here are our videos from the event