Combatting Covid Fraud: both doorstep and on-line: clarifying the sources of guidance
NCSC is the UK "authority" for on-line security guidance
The National Cybercrime Security Centre (NCSC) is the UK national "authority". It is providing guidance and highlighting recent cases, usually taken from the National Fraud Intelligence Bureau. Action Fraud , the UK fraud reporting service, has a similar news section .
The NCSC supports local police forces with guidance and updates via the Regional Organised Crime Units. These, along with the Metropolitan Police and City of London Police, form the "Protect" Network. The relevant websites and contact points are on the NCSC ROCU contact page.
The main UK sources of child safety guidance include:
The NSPCC special page on corona issues . This is additional to its normal guidance, including that regarding on-line safety .
the UK Safer Internet Centre has nothing specific to Covid but a wealth of relevant materials.
London Grid for Learning . LGfL supports most schools in London and many across the rest of the UK. LGfL has been able to agree licensing arrangements to make available most of their material, designed for use by the schools and local authorities they support, available to all schools and also to parents organising home learning at no charge.
For Londoners
For Londoners, the Metropolitan Police warning and its Covid fraud awareness campaign use its volunteers and network of Safer Neighbourhood Partnerships to distribute the
"The Little Book of Big Scams". Copies of this can be downloaded from their advice website
And there is more to come
As yet there is no material covering attempts to spoof on-line tracking apps. That from the Kings, Guys and St Thomas's consortium now has 1.5 million users and is said to be growing rapidly. The fraudsters will not be able to resist targeting such large audiences.
Many of the recommended "signs" for recognising a phishing attack no longer work. Those working from home for large organisations are particularly vulnerable to responding to e-mails that appear to come from some-one in their organisation's personnel or procurement regarding expenses arrangements or authentication processes for those working from home. These will become more sphisitcated. The main discussion group for corporate guidance on such issues is the Security Awareness Special Internet Group.
Content Continues Below

Download this free guide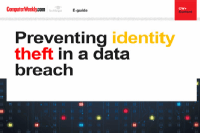 Preventing identity theft in a data breach
In this e-guide, we will explore the links between ransomware attacks, data breaches and identity theft. First, Nicholas Fearn investigates the phenomenon of the double extortion attack, and shares some insider advice on how to stop them, while we'll explore the top five ways data backups can protect against ransomware in the first place.