Blue tooth, not privacy, is the problem with NHSX
Yesterday I blogged on whether Protecting Data was more important than Saving Lives and Saving Livelihoods, including, but not just, when it comes to using mobile phone data to aid track and trace.
Today there are reports of a survey commissioned by Anomali which talk of the limited value of NHSX, because the most vulnerable are unlikely to have suitable mobile phones. The press cover cover also quotes the survey as finding that 29% of respondents would refuse to download the app. It does not say why. Anomali have been kind enough to give me access to some of the survey detail. By far the most common reason was fear of smishing (nearly 50%). Far fewer were concerned about "Government" having access to their location or personal data.
One of the first comments I received after my recent blog was from a security consultant. He would never enable Bluetooth on a mobile phone because of its inherent security problems. It is unclear how many of these have been fixed with the latest releases. But some are unlikely to be ever fixed because they fit the business models of those driving the increased use of the technology.
They relate, in part, to the experiences of a Computer Weekly reader on the Isle of Wight quoted in an article on "Why technology is not the answer" by the editor, Bryan Glick. These include signals passing through the wall from the next door neighbour or "cascading" down the street. Such properties greatly aid the use of Bluetooth to facilitate targeted advertising. They also happen to aid covert surveillance. Issues on the Isle of Wight also included battery life, cited by another survey as the main reason for reluctance to use an always on Bluetooth app.
Such problems will not prevent that NHSX from becoming an invaluable tool in helping bring Covid 19 under control. They merely mean that the blue tooth component of the app is of limited value. Far more important is the data volunteered by the users about themselves in return for …
In that context I have been delighted to hear that the staff recruited to support the track and trace call centres already include 7,500 with medical backgrounds to help advise those making contact who want to speak to a human being.
The way forward is an integrated approach, blending people and technology. Technology is not the answer. But it is part of the answer.
Content Continues Below

Download this free guide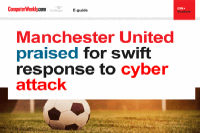 Manchester United praised for swift response to cyber attack
The Theatre of Dreams briefly turned into The Theatre of Nightmares as Manchester United Football Club suffered a cyber-attack on their systems on Friday 20th November. This e-Guide dives into more depth about how the attack happened and what Manchester United's cyber security team did, in order to prevent a loss of data and keep a clean sheet.