W-Tech first impressions - welcoming, but confusing!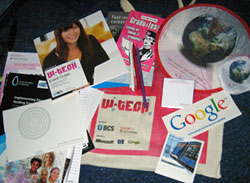 It's a beautifully sunny day in London, and the walk from Embankment to the IET building on Savoy Place for today's W-Tech women in technology recruitment fair / networking event was pleasant. There's a rather imposing statue of Faraday right outside, which was gleaming in the light, and inside a motley assortment of pictures and monuments to other technological greats. I'm sat gazing at Kelvin right now, who's guarding a small showcase detailing the laying of one of the first telegraph tables… I've set myself a private mission to discover, by the end of the day, whether there are any women memorialised in marble or stone here, given the nature of today's event!
Welcome was, well, welcoming, complete with a goodie bag of info on some of the recruiters present in the Riverside Room recruitment fair today. Most intriguing – but puzzling – item is GCHQ's exploding frisbee. (Pictured top-right in the photo above on its way to this entry when I get chance to upload it. ) It's especially amusing watching people try to pop it back into its pack…
Apparently around 900 people are registered for the daytime sessions and around 800 for the evening, and there's certainly a good buzz at present.
On the downside, it's taken me a full half hour (and a number of questions to the friendly staff) to successfully get onto the wireless network, as it seems to be completely incompatible with IE on my office laptop, and didn't like my iTouch much either. Thank goodness for Firefox. Should have tried that first. (And must let them know on the desk how that fixed my problem.)
Oh – and if you've got a major multi-floor event on, why lock the lift doors on the 'public' side? I had to get rescued from a pointless wait by the (also very friendly) catering team… (Update: They got unlocked later!)

But I'm online now, and off to my first session in about fifteen minutes – "Having fun and being a great technical professional".