It's crucial we inspire women to consider a career in the industry
This is a guest blog by Katrina Roberts, Vice President – Global Network and International Consumer Technologies Europe, American Express, from Brighton, winner of 'Leader of the Year in a corporate organisation category – sponsored by BP.
The FDM everywoman in Technology Awards are a celebration of the contribution that women make to technology and more broadly the role they play in business.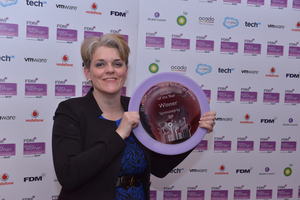 Recently I was honoured to have been selected as 'Leader of the Year in a Corporate Organisation' for my role at American Express. It truly was a career highlight and one of my proudest moments.
I hope that by sharing my short story I might in some part inspire other women who may currently think IT is not for them to realise what a great career choice it can be and what a valuable contribution they can make.
I wouldn't necessarily say that a career in IT has always been on my radar. My Dad still reminds me of the (now infamous) time he offered to buy me a computer in my first year at university and I refused saying, "A typewriter is perfectly adequate, why on earth would I need a computer?" This is a statement that still haunts me….
At school I was always pretty good at Science and Maths but I was much more interested in History and English. I honestly didn't consider a career in IT until later. When I look back now I think that was partly because I didn't know anyone who worked in the industry, male or female, and therefore had no role models to inspire me. What I did know, however, was that I was ambitious which is how I ended up on the American Express graduate scheme. My logic being it was a big company with lots of opportunities.
By chance one of my first assignments on the scheme was in a part of the business where I got to do both data analysis and programming which, surprisingly, I loved. I also got to work with the IT department and realised that the best bits of my role – being creative, solving problems and working with lots of people – were the core of what IT was all about. So I applied for a job in American Express's IT department and I have never looked back. As I look around me at other women – whether working in IT or other areas – I see many of the character traits and skills that would make so many women successful in IT.
One thing that has definitely changed since I started my career is the number of opportunities in the industry and the impact of IT on our day to day lives. It's predicted that in the next five years IT will be in the top five areas of job growth across Europe. The EU Commission's own figures suggested that there will be 900,000 vacancies for IT-related roles by 2015 and that jobs based around IT are growing by about 100,000 every year, yet the number of skilled IT graduates is failing to keep pace.
When I think about how IT impacts our daily lives – whether it's through use of social media, dependency on mobile phones/tablets or our ability to access huge amounts of information pretty much instantly – it's crucial we do as much as possible to inspire women to consider a career in the industry. If not a huge number of talented individuals with the necessary skill set to have a very successful career in IT risk missing out on the fantastic opportunities it presents.