How to achieve a gold medal career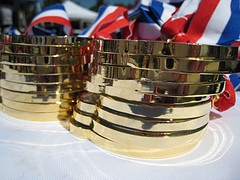 With career orientated blogs spreading like wildfire, there are lots of articles and advice pieces on the internet about how to progress your career. But every now and then it's nice to hear tales from people who have been there, done that and bought the t-shirt, as the saying goes.
Women in Technology recently held an event 'How to achieve a gold medal career' with BP, featuring a key note speech from Olympic, World, European and Commonwealth Athletics Champion, Sally Gunnell.
Sally shared her story of athletic success and her journey to winning an Olympic gold medal at the 1992 Games in Barcelona and it was great to understand how her personal story of perseverance and self-belief relates to the everyday challenges in the workplace and getting the best from yourself. So here are a few of the facts that Sally shared with us that hopefully we can take on board and apply to our own careers.
Confidence and a positive mental attitude
Sally really emphasised the importance of believing in yourself if you want to succeed. She referred to Olympic Race Day in 1992 when she was sick with nerves. It took her two hours to get ready, doing her hair, nails and makeup, but by feeling good about herself she felt more confident and ready to win.
Her other advice included:
• Everyone has good days and bad days. Don't beat yourself up. The team around you is very important.
• Don't think about the negatives – silence that little voice in your head. Hear the positive voice – you can do it.
• Success is 70% in the mind and it's a tool we all have
Goals
Think big – have dreams and goals throughout your career. Sally described how she has yearly goals – they could be to get into a final, a technique or performance to achieve, becoming the local champion etc. We need to stretch ourselves to grow as people so it's important to get out of our comfort zone. She also mentioned the importance of having a role model.
Determination
At the European Championships Sally came 6th and threw a tantrum. She was telling herself that she didn't have what it takes and wanted to walk away from the sport and get a job where she didn't have to put herself under pressure. But then she realised it was about recognising where it had gone wrong, putting it behind her and moving on. She described how 20-30 times a day she would visualise herself achieving her goal and correct any problems she saw.
Image used via Flickr courtesy of Neeta Lind under Creative Commons Licensing.