For companies trying to appeal to more females: The Daring Book for Boys in Business
We have had several discussions on WITsend about why a career in technology isn't as appealing to women as it is to men – the stereotypical image of nerdy male dominated teams, inflexible hours and uncreative daily-tasks.
Obviously those of us who do work in the industry know the truth behind these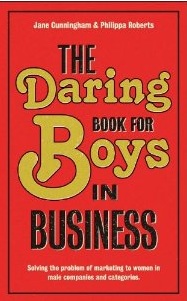 myths, but females eying up the prospect of stepping into the world of tech are immediately greeted by a slew of company brands heavily showing signs of masculine advertising techniques.
If the brand is the first thing any customer or job candidate sees, no wonder most ladies do not feel the urge to learn more about the tech industry.
So what makes up a successful gender-free brand that appeals to a mainstream audience of adults, instead of just half of a possibly lucrative audience?
I recently attended a book launch for 'The Daring Book for Boys in Business.' The book is by Jane Cunningham and Philippa Roberts, the founders of Pretty Little Head. Their Pretty Little Head agency specialises in marketing strategies to female audiences with clients including Tesco and the Conservative Party.
The book is aimed at companies already successful at targeting men but are now looking to engage more females. Offering a 'toolkit' this book suggests eight simple steps on how companies can include more women in their target audience without making their male customers feel left behind.
The book doesn't just focus on technology, but also covers telecoms, financial services, consumer electronics, cars, gaming and utilities, shedding light on why some companies and brands succeed with women whilst others fail.
Cunningham explained that humans can be split into two different mind sets – systematic and empathetic. The systematic being predominantly favoured by males and the empathetic by females.
From their own industry research into companies Pretty Little Head had found that businesses struggling to appeal to females were dependent on a system of some kind: "They focused on systematic thinking to present what they wanted, which is very masculine," said Cunningham.
She explained that a typically masculine brand will seek to lock the customer in instead of connecting with them.
Instead of seeking to understand the customer the brand will use scale, control and hierarchy to show their dominance in the industry: "This is achieved through a series of boasts and exertion of dominance to impress the audience not to connect with it," she suggested.
Cunningham added: "It is important to find that sweet spot – that place between the systematic and empathetic – in effect putting a mind in the machine."
Roberts agreed and said companies they have worked with were trying to appeal to more females but they were using the wrong tools: "They were only using tools to target men. We decided to use the language of men for our book – a toolbox."
Roberts noted there is a difference between how males and females react to branding: "There is a difference between the genders and this needs to be recognised. As a company you need to get to grips with this or you will slip back into masculine branding."
Through realising this Roberts said it can: "Unlock the amazing opportunity that women offer in technology."
Previously Cunningham and Roberts released Inside Her Pretty Little Head – a book which looks at the female target audience and the difference between men and women in motivation, decision making and information processing. This book also covers creative work which appeals to women and what makes a successful female brand.