'Carry On Datacentre' where women are just totty in fancy-dress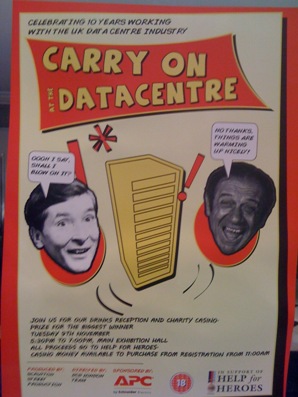 When women turned up in nurses outfits to a datacentre conference, it was more than inappropriate, it was embarrassing for the 21st century.
'Carry On Datacentre' I would like to say is a joke. But this 18-rated drinks reception and charity casino event took place after a datacentre conference I attended this week all in aid of charity.
It would be difficult not to notice a group of girls lingering outside the DatacentreDyanmics event in London among a sea of men wearing suits.
Initially, when I passed women dressed in nurses uniforms, as police women and in other fancy dress costumes in the hotel reception, I honestly thought the hotel was accommodating a hen-party. But, no.
As I emerged from the last talk of the day on datacentre facilities management, girls dressed in these various fancy-dress themes, were tottering around the main exhibition hall alongside datacentre racks and the latest air-cooling technologies. The charity event was called 'Carry on datacentre', organised to take place after a day's talks on datacentres and to celebrate 10 years working in the datacentre industry.
One minute there were discussions of datacentre power usage effectiveness (PUE) ratings, the next the main exhibition hall was a pit of casino tables, the IT industry's version of motor racing's 'brolly dollies' and booze.
Perhaps all the other costumes were taken and Ann Summers was the only remaining option for the PR organising the charity event? It seemed to me, the 'Carry on' theme was a poor excuse for scantily-clad girls to turn up.
Turns out women are represented in the IT industry: as eye-candy.
You wonder why more women don't opt in for IT careers? I didn't stick around long enough to ask any datacentre experts what they thought of it all.
N.B. If you can't read the poster exclamation bubbles, they read, "Oooh, I say, shall I blow on it". "No thanks, things are warming up nicely."