Career Development Tips for Women: Moving Beyond the Boys' Club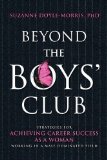 For women in male-dominated business fields there are times when a little bit of company, sympathy, or even a sprinkling of feminist theory, is enough to get you through the day. There are others, though, when what you really need is some practical help and advice.
At last year's W-Tech event in London, I was pleased to hear practical suggestions from a number of expert speakers. Among them was Suzanne Doyle-Morris, an executive coach who specialises in helping women develop business leadership careers. (You can read about that session in a previous post, 'Be the boss you wish you had', on this blog.)
Suzanne is an ICF accredited coach with plenty of experience coaching female business leaders, further backed up by her own PhD research into the field. Her book, Beyond the Boys' Club: Strategies for Achieving Career Success as a Woman Working in a Male-dominated Field, features plenty of practical tips, gathered from her interviews with more than 21 high-achieving women working in male-dominated fields.
Over the next six weeks, every Monday from 18 Jan to 22 Feb, Suzanne will be bringing you some brief practical insights into the strategies a number of successful career women have used, as revealed in her book. To give you an idea of what's on its way, here's Suzanne herself, introducing her unique perspective on the issues facing women trying to get ahead in business:
"Career progression especially in male dominated fields is a blend of aptitude and attitude, manoeuvrability, understanding of office politics, self awareness and confidence. As a professional coach developing high-potential female talent, I have yet to meet an ambitious woman who wasn't already delivering high quality work.
What women tend to lack is the knowledge of how to raise their profile well, when most of their colleagues are men, and how to unlock the level of confidence required to take the next step up the career ladder to the boardroom/senior roles. It's the way we draw attention to what we do and achieve that sets us apart from others. It's not our gender."
Amen to that!
And for those itching to take things further, Suzanne is also running virtual career development 'bootcamps', kicking off in January and again in March.
See also: