Can digital natives' use of technology translate into an IT career?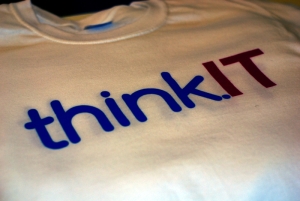 IBM recently hosted a girl-only event aiming to encourage school pupils to consider continuing with STEM (science, technology, engineering and mathematics) subjects.
But perhaps rather than encouraging the girls to opt for STEM subjects, it served to highlight the use of science and technology across all sectors – and a different mindset.
The event, called IBM think.IT, took place at IBM's development laboratory at Hursley Park near Winchester.
What the teenagers thought
One of the pupils who took part included 14-year-old Olivia Dalton from Thornden School.
Olivia said the two day event involved the attendees working in groups to design products around a theme of One World – considering how technology has brought the world closer together.
More than simply designing a new product, the attendees had to consider how to market and make money from it.
Other tasks, such as making a paper chain, emulated the support stages of IT product development.
Olivia said her group designed a smartphone app that allowed users to take photos of clothes they liked and told you where you could buy them and how much.
Rather than talking about the technology, Olivia focused on how the app would make money, being free for the first month and including advertising after two weeks.
Another participant, 14-year-old Nicola Watt from Thornden School, said she decided to take part in the event because it was something she'd never done before – even though she wasn't particularly interested in science previously.
Despite the event, Nicola plans to go into the police force but said she realised how much science is involved in every job.
"I want to do something with science. Maybe become a vet," said 14-year-old Anna Copland – another event goer.
Rather than talking about technology specifics, all the girls either focused on the business aspects of making money from technology or recognised the use of science and technology in all jobs.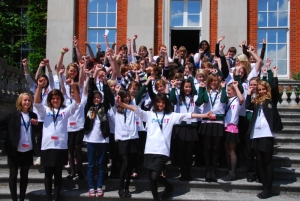 Perhaps this reflects the younger generation's different mindset. Instead of 'thinking about IT' as a separate entity and career path, for future employees, technology is integrated within all jobs and tasks – and daily life.
According to IBM's survey results, 80% of attendees agreed technology is fun by the end of the event compared to 60% at the start.
But translating technology being fun into future IT professionals is still a challenge.
The long-term STEM problem

Science teacher, Mark Buckley from Thornden School, – who organised the school trip – said it's a long term problem with girls not studying STEM (science, technology, engineering and mathematics) subjects.
Interestingly, Mark said previous science-based school trip events, which weren't "girl-only", had received limited response from girls. However, the girl-only think.IT IBM event was so popular with the girls he had to pull names out of a hat.
Mark observes STEM subjects start changing to become male-dominated during secondary school – particularly around age 12-13. Boys are willing to take risks whereas girls pursue subject they feel they can excel in.
"Girls say they can't do science but there's plenty of evidence that they can. Girls tend to defer to the boys when it comes to computing and physics, not because they can't do it but because the boys push themselves forward. The boys have greater confidence when they get it wrong," he said.
Mark said the event was a small progression in the direction of changing stereotypical career choices.
"Career choices are affected by an accumulation of experiences," he said.
"Girls that carry on [STEM subjects] are typically good at it. If they judge they're average, they won't carry on," said Mark.
"I don't know where they pick it up but a lot of girls would underrate own ability in physics," he said.
IBM believe simply raising young people's awareness of IT careers will increase the number of young people entering the sector.
Changing stereotypes
Mark Wakefield, responsible for community programmes and corporate citizenship in UK and Ireland at IBM says the problem of women being underrated in the workforce is a simple process of raising young people's awareness of careers in IT. He added that applying technology to a business context will help change stereotypes.
"Girls need to realise a career in IT doesn't have to be a tragic, geek-like existence," he said.
However, Catherine Hawthorne, responsible for IBM's community programmes in Hursley, says it will take time to change stereotypes. She said it has taken time to change since she was one of two girls studying physics at sixth form.
"We're not trying to turn them into computer programmers. We're showing them that whatever the career, technology will be part of it."
But what is the future of the IT sector if young people fail to recognise technology as a stand-alone career option?
Winning ideas from IBM think.IT

FiBi: find-it-buy-it would be a smartphone application that would allow a user to take a picture on their phone of something they liked, and then take the user to the online shop where they could buy it.

Allergy Alert!: in a sign of the times, another smartphone application. This one would allow users to register their allergies; then, using the camera function on their phone, scan a bar code on a packaged food item. The application would warn users if it was safe to eat, thereby avoiding the effort and strain of reading a package's small print.