Is EE working on a driverless car?
As a frequent cyclist around London I have to be extremely sensitive to what the drivers around me are doing in order to guarantee my own safety. Indeed, I always try to ask myself what is the most stupid thing a nearby driver could do right now, and react as if they have just done it. It's called riding defensively, and it's taught in cycling courses and endorsed by the Highway Code.
What does this have to do with networking and communications? Well, one of the biggest sins I see on the streets is drivers using their mobile phones behind the wheel.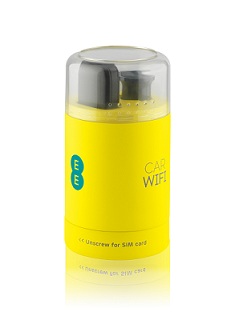 With many studies now suggesting that mobile phone use while driving is as dangerous as drink driving, and one study at the University of Utah suggesting it is more so, I firmly believe the drivers who use mobiles while driving should face comparable penalties to drink driving, including potential bans.
Today EE announced a number of enhancements to its 4G service and of particular interest were plans to enhance 4G coverage along the UK's motorways and major A roads, and the launch of the UK's first 4G in-car Wi-Fi, the Buzzard, a plug-and-play device that can run off a 12v cigarette lighter connection to get up to 10 devices online. It also fits neatly into a cup-holder.
I asked EE's top brass if this well-intentioned launch might prove a temptation too far for some drivers. What steps is EE taking to keep those at the wheel off the web, and isn't it time for mobile networks to take more responsibility for safety given the frequency with which the devices they back are implicated in road accidents?
EE chief marketing officer Pippa Dunn told me it was definitely an issue that the firm is awake to and EE is making sure the new services and devices are positioned only for the passengers in the car.
"I do think the responsibility is on the driver to ensure they are driving and not using mobile phones," she said. But, she went on, mobile device use in cars is here and established and it is right for EE to address that, she claimed. The firm will continue to put in place resources to educate the market and ensure that device use behind the wheel is stamped out. Good to hear.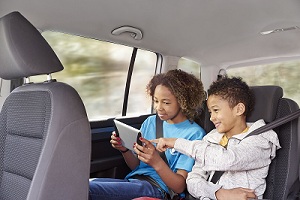 To EE's credit, its messaging around using the in-car Wi-Fi plans is pretty clear. In the press pack handed round afterwards I found the photo you see here, of two kids sharing (sharing???) EE's new Eagle tablet in the back of the car. The car is clearly in motion but … what's that … the driver's seat in front of them is unoccupied! Nobody's driving! Where are mum and dad, Pippa? Or is this one of Google's driverless cars?
The topic of computer-controlled, driverless cars is of great interest to the two-wheeled fraternity, some of whom view them as a potential life-saver, and I think this picture points to a great sense of social responsibility over at EE.
So is EE working on a driverless car? It's time to come clean, guys.