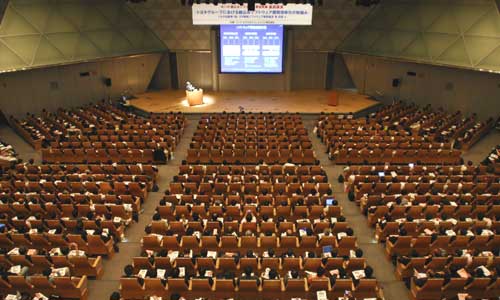 I spent some time yesterday with the event director of another of my companies exhibition events: the Japanese Information Security Expo. This show exceeds Infosec Europe in scale, getting well over 100 thousand visitors over three days and covering a vast amount of floor space.
The seminar programme this year had a heavy focus on internal controls and web security with topics including dealing with information leaks, document security, forensics, and identity management.
The picture of the main seminar theatre above gives some indication of the scale of the event.
I was discussing with one of my local colleagues here in Tokyo the reasons why some major vendors were noticeable in their absence from the exhibitor list. His opinion was that many international companies, on first arriving in Japan, focus and prioritise on recruiting english speaking employees without much attention as to whether those people understand the business or market they are being brought into. What is clear is that the European or American ways of doing business do not always translate very well to the Japanese way, and that an understanding of local culture is essential for success.
My visit to Tokyo is all too brief. I have some sightseeing time over the weekend before heading off to the next stop on my tour: see you in Shanghai!