Top three tech trends at SXSWi 2010
Realtime web + location-aware apps = Awesome
Unless you were hiding under a rock (no doubt driven there by the sheer volume of tweets tagged #sxsw), you will have noticed the power of the realtime web and location-aware applications. This double act has been a darling of the tech world for a while, but its true awesomeness didn't really hit home for me until last week. As The Next Web noted, as more web apps make the leap to mobile, all other services will be features of location, just as video and photo sharing are features of social media today.
Privacy is not a binary issue
Which brings us to the thorny issue of striking a happy balance between sharing one's lifestream with others while maintaining one's privacy. danah boyd's opening remarks on privacy and publicity can been seen on YouTube or you can read the transcript at her site. And of course, this is SXSW, so you also have the option of a hip-hop recap and a visual note: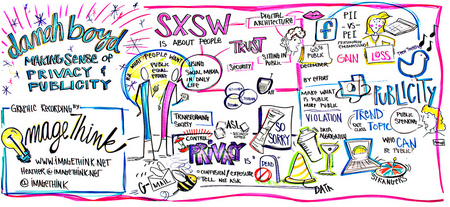 Game mechanics FTW
Possibly the best session for me was Kickstarter founder Andy Baio's talk "Gaming the Crowd: Turning Work Into Play", which focused on how game mechanics can be woven into business applications to make otherwise dull tasks more engaging and, well, fun.
Switched has a good post on the talk, and you can see tweet-by-tweet coverage on Jason Wojciechowski's ScribbleLive blog.
The big lesson here is that you can get people to do almost anything if you turn the process into a game.
As Baio said, "Even though you know you're being manipulated, doesn't change the fact that the game is fun."
You could use that power for good – as games developer Jane McGonigal noted in her recent TED Talk on online gaming to improve the real world – or you can use it for evil, as demonstrated by now notorious auctions site Swoopo.
(Image courtesy of www.imagethink.net.)