SD-WAN handles fleet management and passenger services
Driven by traffic congestion, pollution levels and rising infrastructure costs, the future of public transport is being technology-enhanced on many levels. Thus major initiatives include: Mobile Internet access; GPS and intelligent fleet management; App-driven taxi and shared car services and; Fully integrated metropolitan ground transport systems.
On the ground
On the roads, developments focus on safety, cost, environment and efficiency. Some futurologists claim that public transport with driverless vehicles will completely replace buses and trains – even long-range ones, over the next 10-15 years. Others envision integrated public transport systems. This could be last-mile driverless electric cars interfacing with intelligently controlled electric buses, metro and long-distance trains.
The always-on internet connected passenger and use of a centrally managed fleet systems is what the public transport solutions all have in common. This allows passengers to use the Internet without the need to concentrate on navigating congested roads.
Across Europe many public transport systems offer basic Internet access. But this typically begins with flaky, advertising loaded W-Fi access. At a more advanced stage, bus systems strive to combine fleet management with passenger web-services. That requires a centrally managed system with mobile channel access-bonding to handle changing cellular signal environments. Typically, evaluation criteria focus on range, cost, operational reliability, uptime, signal quality, remote operation and reporting capability.
Case study of Polish bus operator
KPKM is one of three bus operators serving a population of 300,000 in Bialystok, Poland. As a competitive differentiator, the operator wants to offer its passengers stable Wi-Fi Internet. The task has been given over to ACO Solutions, a systems integrator in wireless cellular network infrastructure, Wi-Fi network monetization, surveillance, and secure data transmission.
Devices were sourced from three different manufacturers. The one selected is the MAX BR1 router from Peplink with embedded European 3G/4G Modems and two SIM cards. When a bus roams out of signal range of one carrier, the Peplink router automatically switches to the other network ensuring continuous connectivity. Installing the MAX BR1s for KPKM's fleet of 100 buses took two weeks to complete. Each bus is fitted with high-gain cellular (up to 11dB) and GPS antennas mounted on the roof for optimal signal quality. A directional panel antenna broadcasts the Wi-Fi signal to the passengers.
Centralised fleet management
KPKM also wants a centralised fleet management system and has opted for Peplink's InControl2 cloud-based device management. This is a monitoring and reporting tool designed specifically for Peplink devices, but with open APIs for other devices. The management system provides a real-time geographic overview of the entire bus fleet. On a more granular scale, buses can be isolated and tracked separately for close monitoring and management.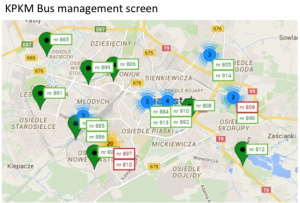 Users connecting to the on-board Wi-Fi are directed to a captive portal on KPKM's website. This is configured as the landing page. KPKM's captive portal also displays online ads from an external server. The free Internet is currently financed by selling advertising space to third-party publishers. KPKM also promotes its other passenger services on the landing page.
Other data points collected by InControl 2, include the number of Wi-Fi users across different time intervals. This allows KPKM to identify and respond to changing passenger flows. KPKM also uses this data to optimize the number of buses dispatched at a given time. InControl2's APIs are used to extract all this data.
New services now being rolled out include a CCTV system, a mobile app for users to locate specific buses, and monitoring for the on-board computer. They are all to be delivered by Peplink devices and a secure PepVPN connection.
Cellular bonding for mobile connectivity
The KPKM story illustrates the business case for pervasive municipal Internet access on public transport systems using SD-WAN routers to bond cellular connections. That connectivity simultaneously provides passengers with ad-financed Internet access, and provides the operator with cloud based fleet management tools. The selection criteria focussed on cost, operational reliability, uptime, signal quality, remote operation and reporting capability.