Intel Stepping Outside - with its eye on the clouds
Intel continues to surf the digital computing jet steam, and provide the engine power to drive computing across global markets. At the recent European Analyst Event in London speaker after speaker affirmed that founder Gordon Moore's law still holds sway over the company and its product plans. But Intel is now clearly stepping out from under the covers of desktops and laptops. Intel's client computing business revenues have dropped from 75% of total turnover in 2010 to 60% today, giving way to Intel's activities in the Data Centre, in IoT elements, memory and software & services, and in networks (that alone contributed 10% to intel 2015 revenues). **Cloud computing** Cloud computing today is driven by people accessing apps, tomorrow it will be driven by things communicating with things, the so-called Internet of Things (IoT). That change will combine data centres, memory and the tiered connectivity required by IoT. Intel is particularly interested in two layers: – The Super-7 Cloud giants: 4 in the US (FB, Google, AWS, Microsoft) and 3 in China (Alibaba, TenCen, Baidu) – The Next-50 cloud providers (many of them in Europe) are growing fast to reach a 50/50 balance with Super-7 in 2016 Intel is committing more resources to Europe and Asia because cloud growth is faster outside the US. 66% of cloud usage is consumer based, and 33% is business, which is split between conversion of existing on-prem DC to cloud, and new usages complementing existing on-site usage. Business usage is growing faster than consumer cloud usage, and Intel believes that hybrid cloud deployments are the future over the next 5-10 years, with big opportunities for IoT in Europe in automation, energy and manufacturing, with telcos providing the back-end support. **Integrated Designs** The Intel Data Centre business was boosted with the $16.7bn (£11.2bn) deal to acquire programmable chip maker Altera bringing in fast field programmable gate array (FPGA) technology that are a better alternative than ASICs for a larger number of higher-volume applications, thus contributing to accelerate the virtuous cycle between DC and IoT. On the memory side Optane SSD and DIMMS based on 3D X-Point building blocks are defining the near-future for high performance storage and memory. This opens a whole new tier of server persistent memory. 2016 will provide fascinating views on how that is adopted by business and public sector users.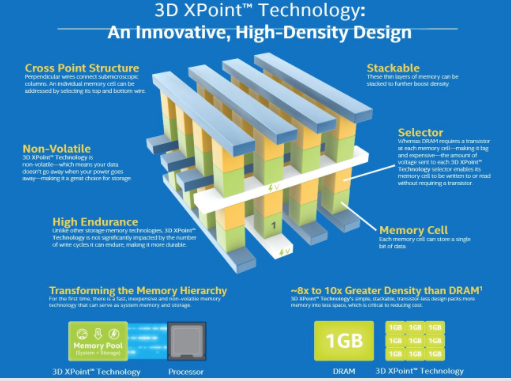 3D XPoint faster-than-Flash media technology **Flies in the ointment** Of course not everything is rosy in the Intel camp. Intel market expectations have been somewhat over-optimistic since 2009: – Growth in markets that were supposed to drive expansion have disappointed. – Smart phones have become the first purchase rather than tablets and ultra thin laptops, – The positive China market stats are simply misleading. Every company selling into China reports drops in sales (except Apple), – The strong dollar makes sales hard, so even when dollar prices drops it still translates into increased prices in foreign markets. While PC's saw continuous price drops between 2000-2007 and notebook prices dropped from 2000-2010, prices in local currencies have gone up again since 2013. – While sales in established markets are stable, emerging markets' consumer take-up has disappointed, dropping by 35% from 2010-2016. – Replacement cycles are slowing down, and battery life still cannot supplant tablets with phablets. So after dominating the PC space since 1981 Intel is facing the decline of the 'fat desktop' and shifting its attention to focus on cloud services. Intel intends to roll with the punches, extending the functionality of its hardware and software components while minimising channels to market conflicts by staying away from the device and server product space. It remains to be seen whether it has the management acumen to steer this new course.