Employees and employers seem to agree: wasting money is OK.
It's that time of the month again – the one where you have to search high and low for all those receipts, figure out what they were for and fill in the expense report. A pretty long-winded way just to get what you are owed, at least according to the findings of research carried out by Quocirca on behalf of Concur among 400 UK workers that either claim expenses or dealing with the claims.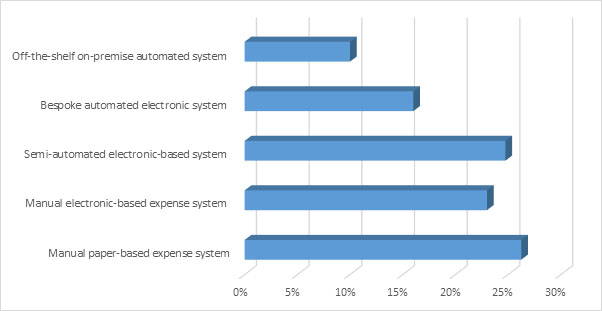 Figure 1
Only 26% of respondents were using systems which could automate a greater part of the expense claim process (either a bespoke system or an off-the-shelf automated system), while 26.25% were still using "paper-based" systems (systems where no calculation or checks were in place when the claim was being input). Hardly surprising that the main concern for both sides was the time taken in the process (see figure 1).
Although paper-based systems were preferred by those making expense claims (presumably as no checks were in place, and so entering expenses – and possibly getting round any little problems like not having a receipt – was more rapid), the back-end process being carried out by those dealing with the claims then has to start with data being transcribed from the front-end system to the back-end one, with associated errors and the need for checks to be carried out at this stage on the validity and accuracy of the claim.
The validity of a claim is bound up with both the legal side of what can and cannot be claimed as well as what the company itself sees as being "right". The definition of what is "right" needs to be held within a set of rules that are known to, understood and followed by claimants – in other words, a corporate policy.
However, only 75% of organisations have a policy in place (see figure 2) – and only 33.5% rigorously apply it, while 22% don't bother checking any claims against the policy. For these people, the question has to be – why have a policy at all?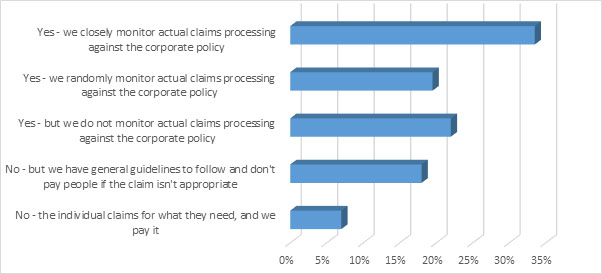 Figure 2
It seems that time is being wasted in having poorly controlled systems that are not well policed and provide little in the way of process automation. As well as the time wasted in to-ing and fro-ing with the problems of poorly automated systems, there is a solid cost that falls on the claimant.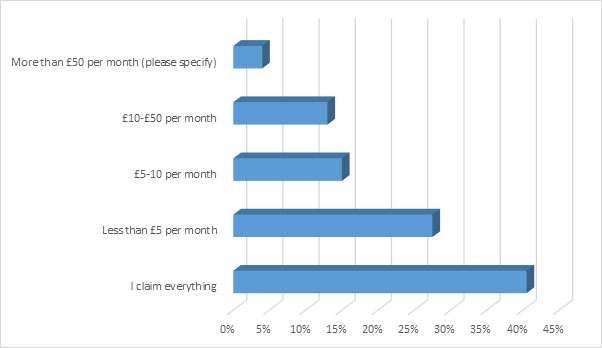 Figure 3
Only 40.5% of respondents stated that they claimed everything, with 17% stating that they left more than £10 per month unclaimed. Through the research, this looks like it was due to claimants not understanding that small expenses such as car park fees and some public transport costs do not need a receipt for them to be able to claim the expense. Without the receipt, the claimant feels wary of submitting it as part of the claim. Workers who feel that they are not claiming everything due to them will be less happy than those who manage to reclaim everything – and an employer should be worried where there is a level of under claim in their expense systems. By using various other sources of research, Quocirca and Concur estimate that this adds up to £330 million being left unclaimed by the UK workforce per annum.
Surely, it's time to manage expenses more effectively? A system which applies policy easily and unobtrusively while allowing expenses to be input as close to the point of expense as possible, for example via mobiles rather than needing to go back to a desk and use a PC, would make life easier. Tying this in to the claimant's credit cards, using a mobile's camera functions to take pictures of receipts, tying front- and back-end systems together and automating everything as fully as possible all helps to create a system that works for claimants, those dealing with the claims and for the business itself.
The full report on the research can be downloaded free of charge here: http://www.quocirca.com/reports/844/