Universal Credit was right on schedule, shows 11th-hour project plan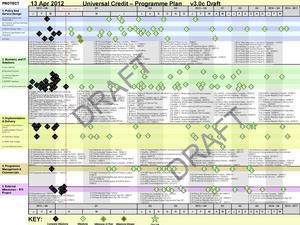 Universal Credit was doing fine and right on time as the Department for Work and Pensions began rolling out its IT system in April 2012, according to a project schedule released under Freedom of Information rules last month.
Campaigners have been arguing in a Freedom of Information case that still drags on after three-and-a-half years and has gone to the highest court of public affairs, that Universal Credit was a shambles in April 2012, that DWP officials knew this, and that they hid the awful truth from public eyes.
But DWP was right on plan with 98.8 per cent of Universal Credit's components, according to a milestone schedule DWP project managers captured on 13 April 2012, and cleared for release by a Tribunal Judge under Freedom of Information law last month.
DWP produced the schedule just when parliament had approved the final terms under which Universal Credit would combine various social security schemes into a single payment of financial support to underprivileged people. It had already begun work in preparation for combining the various computer systems involved at least 12 months before, when a Cabinet Office Major Projects Agency review said the department had made such an "impressively strong start" that it had a "high degree of confidence" it would succeed. Now with a final green light from parliament and a head start established, it was free to proceed to the final stages of the build. The Milestone Schedule released last month showed just how well DWP was doing with the programme.
Six months after DWP produced the schedule, in November 2012, DWP major programmes director Steve Dover told Computer Weekly he had finished his work overseeing the design and delivery of Universal Credit. Everything had gone according to plan, on budget and on-schedule. The project was moving into "operational mode". Newspaper reports that it was in trouble had no basis in reality, he said. Dover, and Universal Credit programme director Malcolm Whitehouse, both stood aside claiming their work was done.
But then Cabinet Office, led by public sector reformer Francis Maude, produced its Digital Strategy for the wholesale automation of public sector work. Within three months, Cabinet Office had taken over Universal Credit, torn up its plans and even scrapped the software DWP had produced to run Universal Credit.
The National Audit Office later confirmed that DWP had implemented almost all of Universal Credit before early 2013. The only part then missing was the Identity Assurance system, which was being built under instructions from the Cabinet Office, but was itself behind schedule. DWP and HMRC had planned to build a dedicated fraud detection system. But it was decommissioned before being rolled out and its functions taken over by the Cabinet Office Identity Assurance system. So that wasn't finished either.
That didn't stop DWP being blamed for the delay though, and Universal Credit getting flack for being the sort of failure people had been taught to expect from public computer projects.